Boardwalk funnel cake takes me back to childhood vacations at a New Jersey beach. This warm deep-fried treat is dusted with powdered sugar and great for sharing!
Welcome to the #SundaySupper Nostalgic Summer Recipes event! When I read the event details — recipes that reminds you of childhood summers — I thought about how I spent summers as a child.
Most summers, we rented a room in a house on Juniper Street in Wildwood, a beach in Southern New Jersey. We stayed there a week, going to the beach during the day, and going to the boardwalk at night. There are piers of rides, from carousels to Tilt-a-Whirls to roller coasters. I still remember the face of the woman who owned the house, how the house smelled, and the swing on the front porch. On the last day of our vacation, we'd eat at Magnolia House, where they served chocolate milk to kids in cups with lids shaped like cow heads.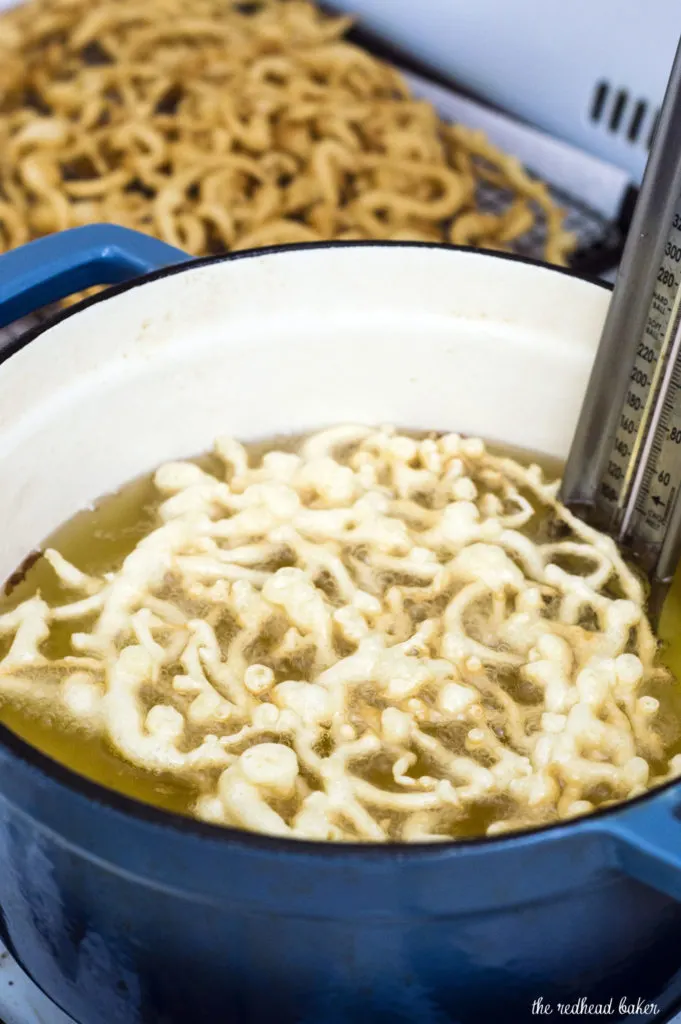 Just before going back to the room for the night, we would stop for a treat. Sometimes we'd get soft-serve (chocolate for me, with chocolate sprinkles), but my favorite treat was funnel cake.
The concept of funnel cake originated in Arabic and Persian regions as a yeast-raised pastry, then spread through Europe. German settlers brought the dish to North America. Now, the components of the batter vary. Some make funnel cake with the same dough used to make cream puffs. I tried that once, and while it was tasty, it didn't taste like the versions I've had on the boardwalk or at carnivals.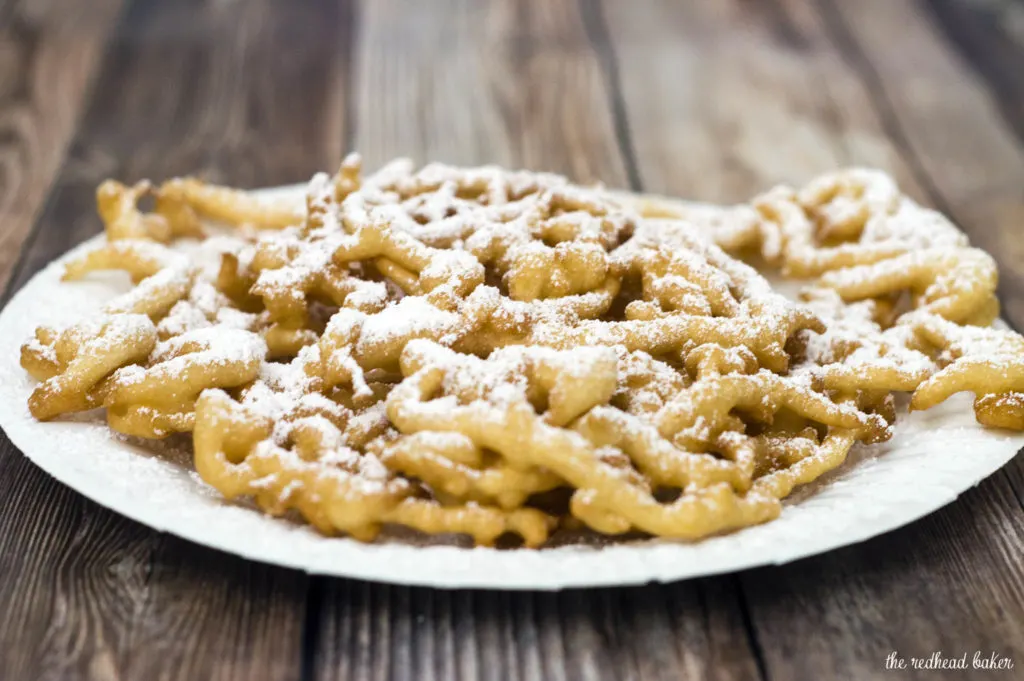 This recipe, however, reminds me more of pancake batter, and was nearly identical to that Boardwalk Funnel Cake. Don't be intimidated by the concept of frying at home. It doesn't require any special deep-frying appliances. You'll need a deep cast-iron pan, like a Dutch oven, as well as a deep-fry or candy thermometer. You should also line a baking sheet with paper towels, and place a wire cooling rack on top, on which to place your fried funnel cakes after they come out of the oil.
When I was a child, funnel cake was finished with nothing more than a liberal dusting of powdered sugar. Nowadays, you can get variations that are topped with a cinnamon-powdered sugar mixture, apple- or cherry-pie filling, or even ice cream!
For a classic, nostalgic feel, serve on disposable paper plates, set it in the middle of the table, and let everybody pick off pieces!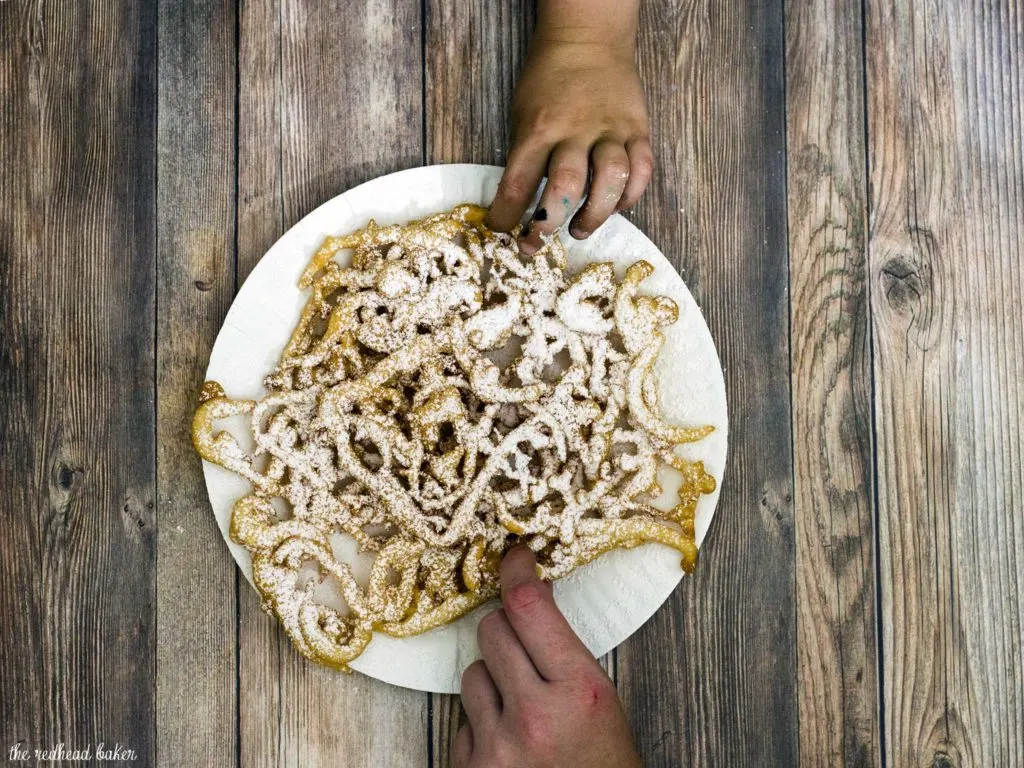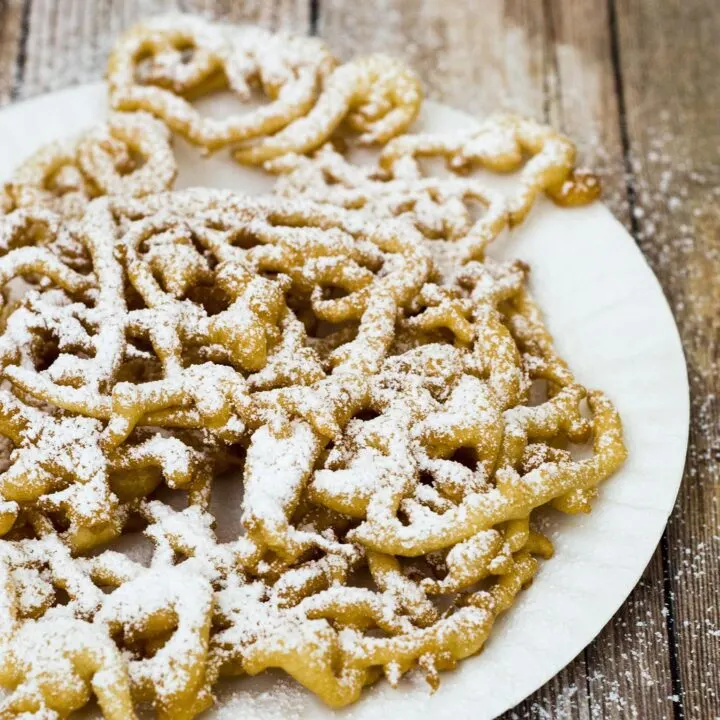 Boardwalk Funnel Cake
Yield:
6 to 8 funnel cakes
Special equipment needed: a deep-fry thermometer; 12-inch disposable decorating bag and #9 or #10 plain tip (or, a funnel with a narrow opening).
Ingredients
2 eggs
1 cup 2% milk
1 cup water
½ teaspoon vanilla extract
3 cups all-purpose flour
¼ cup sugar
1 tablespoon baking powder
¼ teaspoon salt
2 quarts canola oil for deep frying
Confectioners' sugar, for topping
Instructions
In a large bowl, beat the eggs. Add the milk, water and vanilla, and beat until well blended.
In another bowl, whisk together the flour, sugar, baking powder and salt. Pour it over the dry ingredients and beat until smooth.
In a Dutch oven or deep-fat fryer, heat oil to 350 to 370 degrees.
Fit a #9 or #10 plain decorating tip into the point of a 12-inch disposable decorating bag. Fill with ½ a cup of batter. Twist the open end of the bag to prevent batter from squeezing out of the top. Once the oil reaches frying temperature, snip the point of the bag off, hold it tip-down over the oil and squeeze the batter out in a spiral pattern. (Alternatively, cover the bottom of a funnel spout with your finger; ladle ½ cup batter into the funnel. Holding the funnel several inches above the oil, release your finger and move the funnel in a spiral motion until all the batter is released.)
Fry for 2 minutes on each side or until golden brown (the small the tip or funnel opening, the faster your cake will cook). Use a slotted spoon to lift the funnel cake out of the oil, and drain the cake on a wire rack set over paper towels. Dust with confectioners' sugar; serve warm.
Recipe from Taste of Home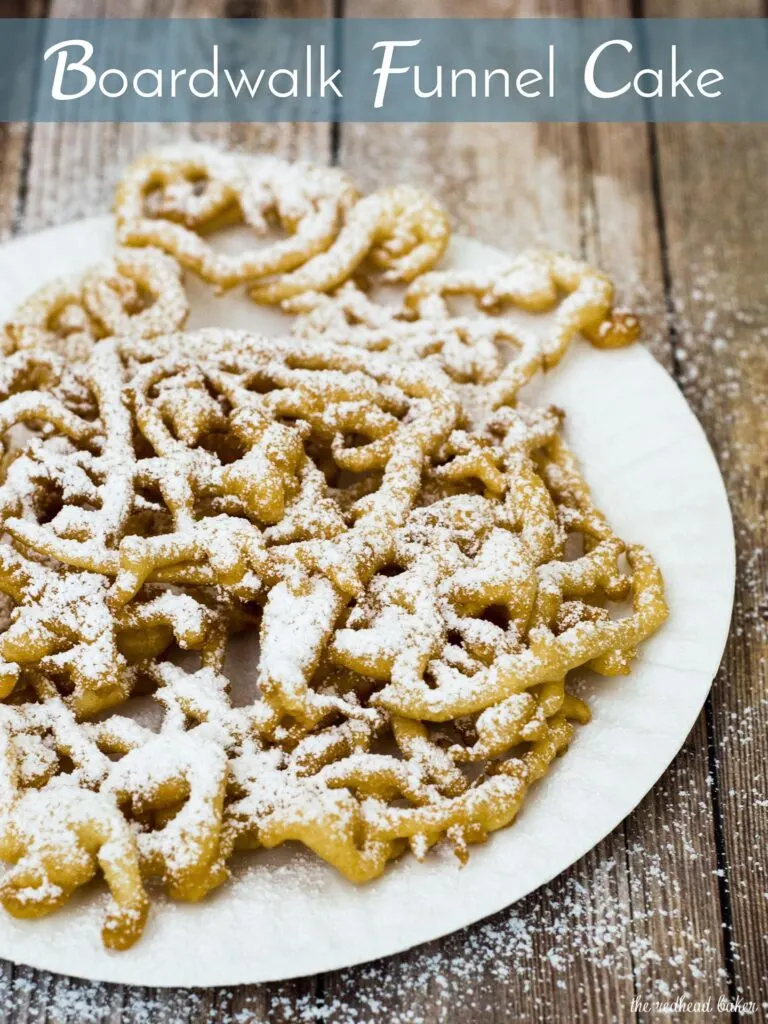 Discover more nostalgic summer recipes!
Beverages
Breakfast
Appetizers
Main Dishes
Side Dishes
Desserts
Join the #SundaySupper conversation on twitter on Sunday! We tweet throughout the day and share recipes from all over the world. Our weekly chat starts at 7:00 pm ET. Follow the #SundaySupper hashtag and remember to include it in your tweets to join in the chat. To get more great Sunday Supper Recipes, visit our website or check out our Pinterest board.