This post contains affiliate links. When you make a purchase through an affiliate link, I get a small portion of the sale.
Peach vanilla jam sweetened with honey is canned using the waterbath method (no pectin needed!), so you can have a taste of summer all year long!
As I mentioned in another post, my son and I picked a peck of peaches, which it turns out is the equivalent of 2 dry gallons. That's a LOT of peaches. While I used some for my raspberry peach sangria, and we ate a LOT on their own, we still had quite a few left over.
I considered making peach barbecue sauce, but my husband didn't sound too enthused by the idea. So, I settled for something I knew we would both enjoy: peach jam.
When it comes to canning, there are a lot of factors that go into making something safe to can, so I always go to two sources for tried-and-true canning recipes: the Ball Canning site, and Food in Jars.
I found a recipe for easy peach preserves sweetened with honey on the Food in Jars site — no peeling of the peaches necessary! I decided to make one simple adjustment that wouldn't affect the safety of the canning process. I added the scrapings of a vanilla bean. Vanilla beans are pricey these days due to a shortage of beans in Madagascar (the home to three-quarters of the world's vanilla fields). You can use vanilla bean paste instead, which will last much longer while still adding the bean flecks you see above. Use 1 tablespoon of the paste per vanilla bean in the recipe.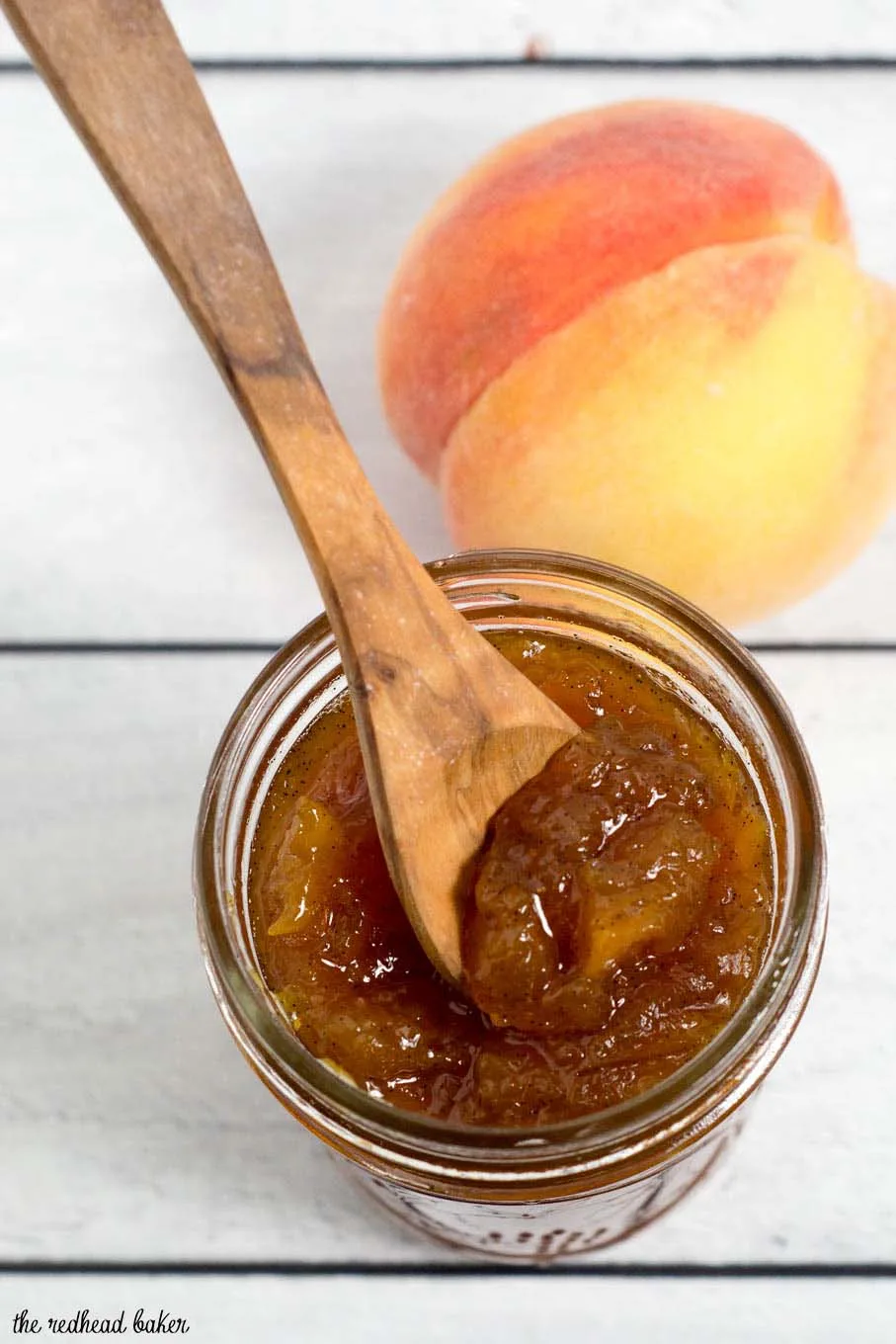 Once canned, the preserves will last at least a year at room temperature. It's delicious on toast, over ice cream, eaten by the spoonful on its own, used as a glaze on pork or chicken, used as a filling in a layer cake, in a grilled cheese sandwich (try it with gruyere!), spread on waffles, as a filling in Danish pastries, or as a spread for scones ...
Want the label from the first picture for your own homemade peach vanilla jam? Download it here! The PDF is meant to print onto a page of 2-inch round labels. Be sure to print your PDF at 100% (do not shrink or enlarge).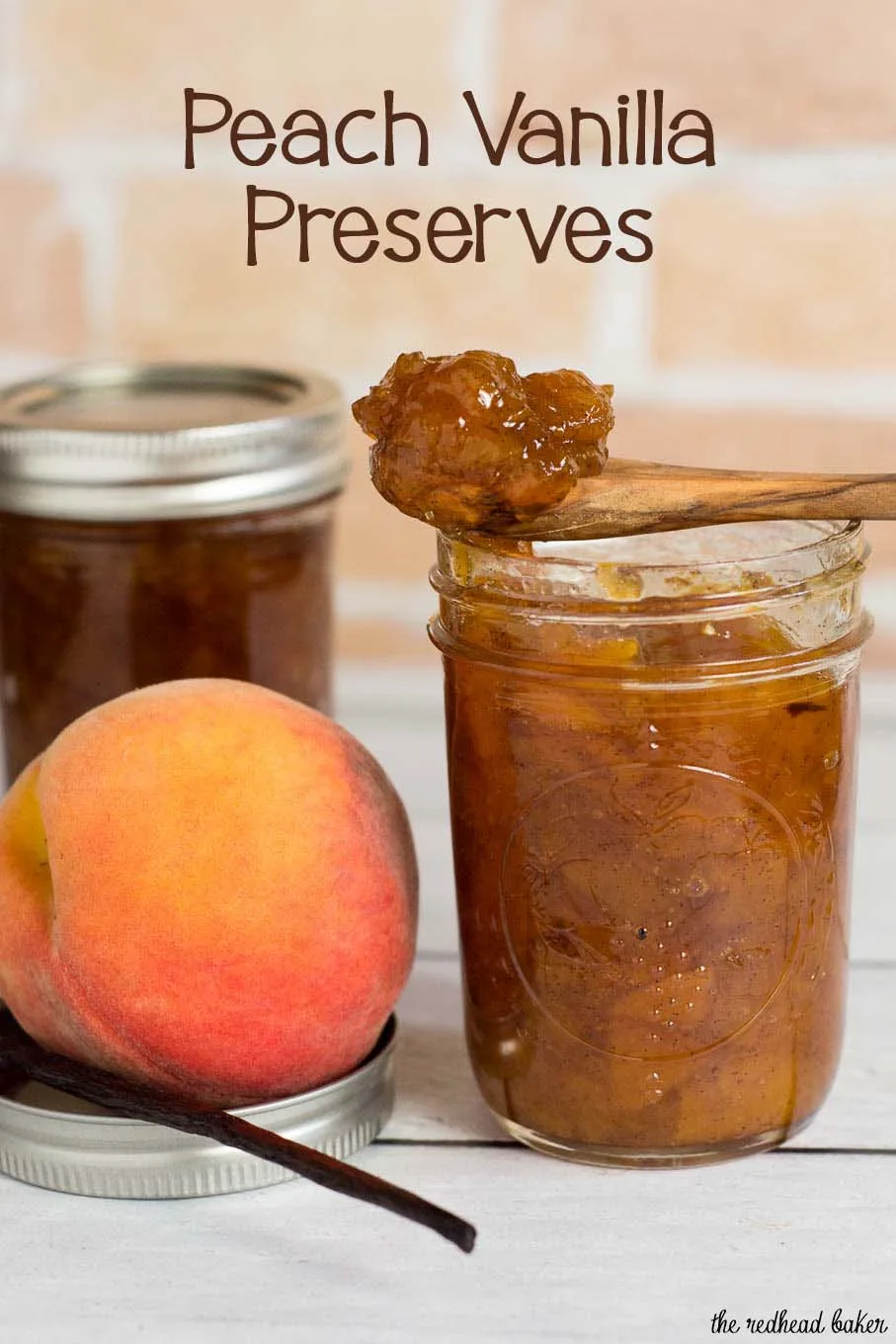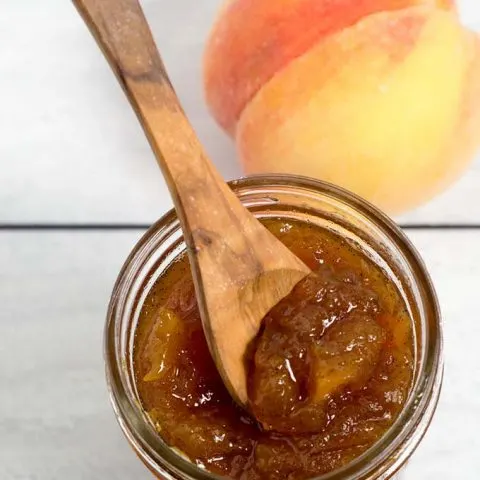 Peach Vanilla Jam
You don't need a special appliance to can preserves. You can use a large pot with a round cooling rack placed on the bottom.
Ingredients
4 lbs yellow peaches
1 ¼ cups honey
1 lemon, zested
1 vanilla bean
Instructions
Wash the peaches thoroughly and rub with your fingers to remove the fuzzy exterior. Slice in half, remove the pit, and cut each half into 4 wedges. Place in a large bowl.
Drizzle the honey over the peaches, then add the lemon zest and vanilla bean. Stir to coat the peaches.
Cover the bowl with plastic wrap and let the mixture sit for 1 hour to extract the juices from the peaches.
After the hour is up, prepare a boiling water bath canner and 4 pint jars (or 8 half-pint jars). Place lids in a small saucepan and bring to a bare simmer.
Scrape the fruit and honey into a large, non-reactive pan (such as an enameled cast iron Dutch oven) and bring to a boil, stirring regularly.
Remove the jars one at a time from the water using tongs. Funnel the fruit into the prepared jars, leaving ½ inch headspace. Use a chopstick to remove any air bubbles. Wipe rims with a clean kitchen towel. Remove a lid from the water with a magnetic lifter. Place it on the jar and apply a ring, tightening it just until you start to feel resistence.
Repeat with remaining jars and jam. Process the filled jars in a boiling water bath canner for 20 minutes.
When time is up, remove jars from canner with the tongs and let them cool on a folded kitchen towel.
Once jars are cool enough to handle, remove rings and test seals. Sealed jars can be stored on the pantry shelf for up to one year. Unsealed jars should be refrigerated and and used promptly.
Slightly adapted from Food in Jars
You might also like: