Looking for a change from classic apple or pumpkin pie? Try this delicious spiced pear pie with hazelnut crumb topping. Serve slightly warm with a scoop of vanilla ice cream.
Creating my Thanksgiving menu is one of my favorite parts of hosting the holiday meal. It's also one of the hardest. There are SO MANY recipes out there. I amass a collection of 12 possible side dishes, and I have to take a step back and remind myself that I can always save some to try next year.
The same is true for desserts. Except I find about 3 dozen recipes I want to try. What can I say? I have a sweet tooth. I get bored with the same desserts over and over. There's nothing wrong with classic pumpkin or apple pie, but I want to try other recipes, too. Sometimes it's just a minor twist, like adding caramel sauce to the apple pie filling, or serving pumpkin cream pie instead of classic pumpkin pie.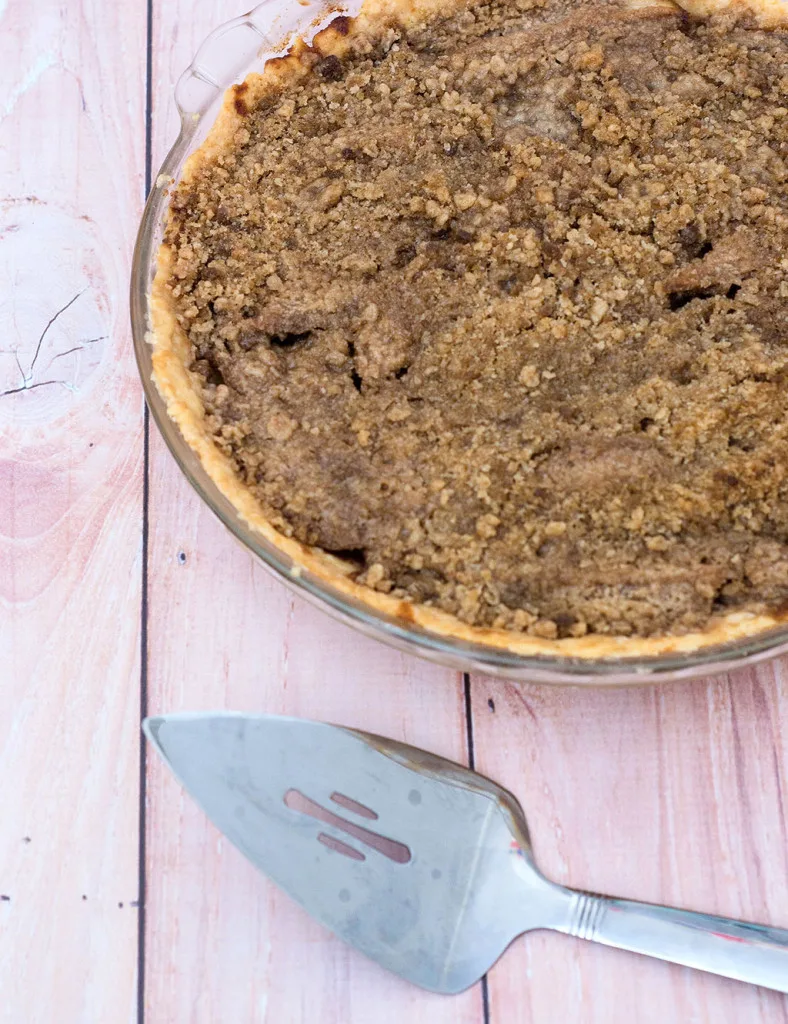 This pear pie recipe isn't too different from classic apple pie. Except it's filled with pears, not apples. Pears don't get enough play in the baking world. I have to admit, I'm not a huge fan of snacking on pear slices, but stick a pear slice on toast with Brie cheese, and drizzle with honey? I can't get enough.
Instead of a lattice upper crust, or a cut-out upper crust, this pie is topped with a butter-and-sugar crumb topping, with hazelnuts mixed in for an unexpected crunch. A tip: buy already-shelled hazelnuts (also called filberts). Hazelnuts have an extremely thick shell that is nearly impossible to crack without a nutcracker, so it's worth every penny to have someone else do the work for you.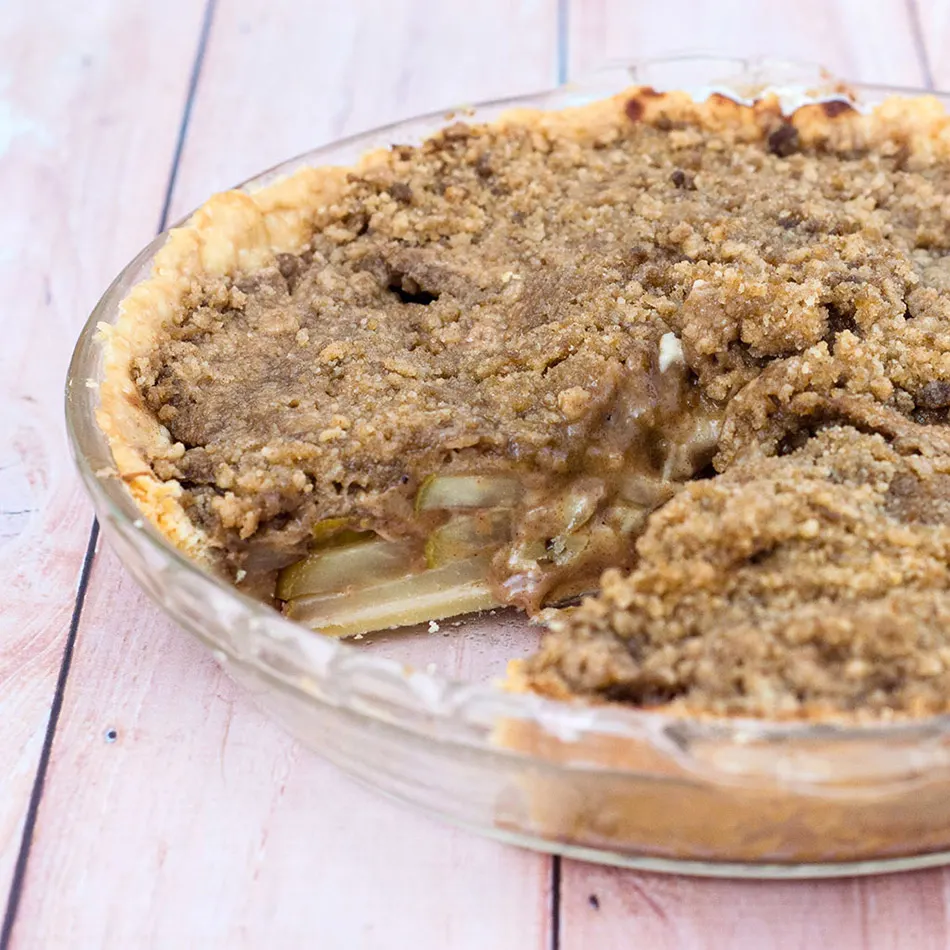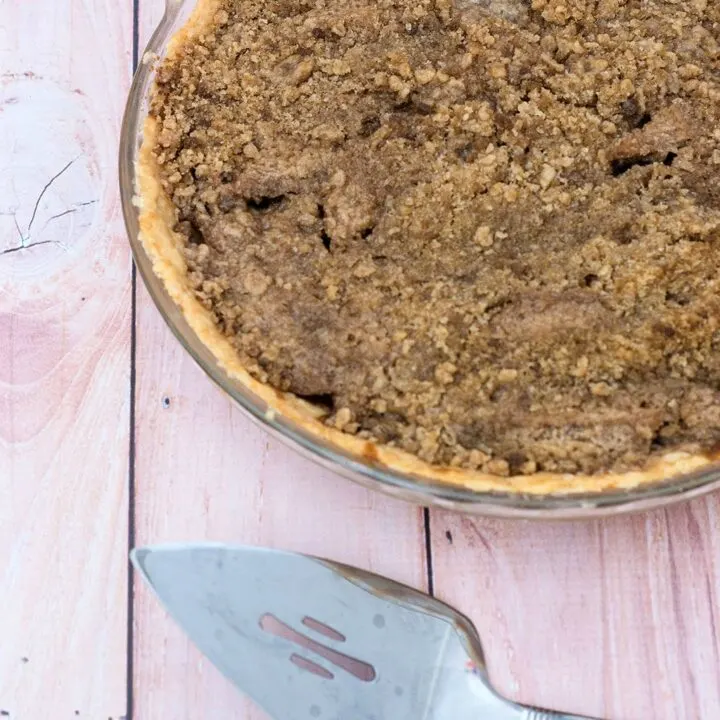 Pear Pie with Hazelnut Crumb Topping
Ingredients
For the crust:
1 ½ cups all-purpose flour
½ teaspoon kosher salt
1 ½ teaspoon sugar
6 tablespoon unsalted butter, very cold, cut into cubes
2 ½ tablespoon solid vegetable shortening, very cold, cut into cubes
3 tablespoon to 4 ice-cold water
For the filling:
½ cup light brown sugar, packed
2 tablespoon all purpose flour
1 tablespoon butter, melted
1 tablespoon fresh lemon juice
1 teaspoon ground cinnamon
¼ teaspoon ground nutmeg
3 pounds ripe Anjou pears, cored, cut into ¾-inch pieces (about 6 pears)
For the crumb topping:
¾ cup all-purpose flour
½ cup sugar
1 teaspoon ground cinnamon
¼ cup unsalted butter, cut into ½-inch pieces, room temperature, ½ stick
¾ cup shelled hazelnuts, toasted, coarsely chopped, 3 ¾ oz
Instructions
Place the flour, salt, and sugar in a food processor. Pulse a few times to combine.
Add the chilled butter and shortening, and pulse about 10 times, until the mixture resembles coarse crumbs.
Add three tablespoons of the cold water, and pulse just until the mixture starts to come together. Add the additional tablespoon of water if necessary.
Scrape the dough onto a lightly floured surface, and press together into a disc. Wrap tightly in plastic wrap and refrigerate at least 4 hours, or overnight.
Preheat the oven to 375 degrees. Take the pie dough out of the refrigerator and let sit at room temperature for about 15 minutes. Roll the dough on a lightly floured surface out to a 12-inch circle. Transfer to the pie plate. Set aside.
Combine the first six filling ingredients (brown sugar through nutmeg) in a large mixing bowl. Add the pear slices and toss to coat. Scrape the filling into the prepared pie crust.
Make the topping: Place the flour, sugar and cinnamon in the bowl of a food processor. Pulse a few times to combine. Add the butter and pulse about 10 times until the mixture resembles crumbs. Add the chopped hazelnuts and pulse 2 or 3 times to combine with the crumb mixture.
Sprinkle the crumb mixture evenly over the top of the pie. Place the pie plate on a baking sheet, and place the baking sheet in the oven.
Bake the pie for 15 minutes. Lower the oven temperature to 350 degrees and continue baking the pie another hour, or until the crust and crumb topping are golden brown.
Cool on a wire rack until just slightly warm or to room temperature before slicing and serving.
Adapted from Taste of Home