This Thanksgiving stuffing is packed full of flavor, from the bread, to the veggies, to the cinnamon-coated apples. Make it ahead of time, then crisp the top in the oven while your turkey rests.
I love everything about Thanksgiving, but if I had to pick one dish to call my favorite, it would be the stuffing. I'm not a stuffing purist. I will sit and eat Stove Top straight from the pot. Yet every Thanksgiving, I look for gourmet stuffing recipes that will knock your socks off.
This recipe, however, has knocked every other one I've made out of the park. It just has so much flavor, and the perfect texture. It's not mush, like Stove Top, yet it holds together like stuffing should. Part of the flavor comes from La Brea Bakery ciabatta bread. "Ciabatta" means slipper, because the unbaked dough looks like, well, a slipper. It's very flat, and the dough doesn't rise too much, making the bread wider than it is tall.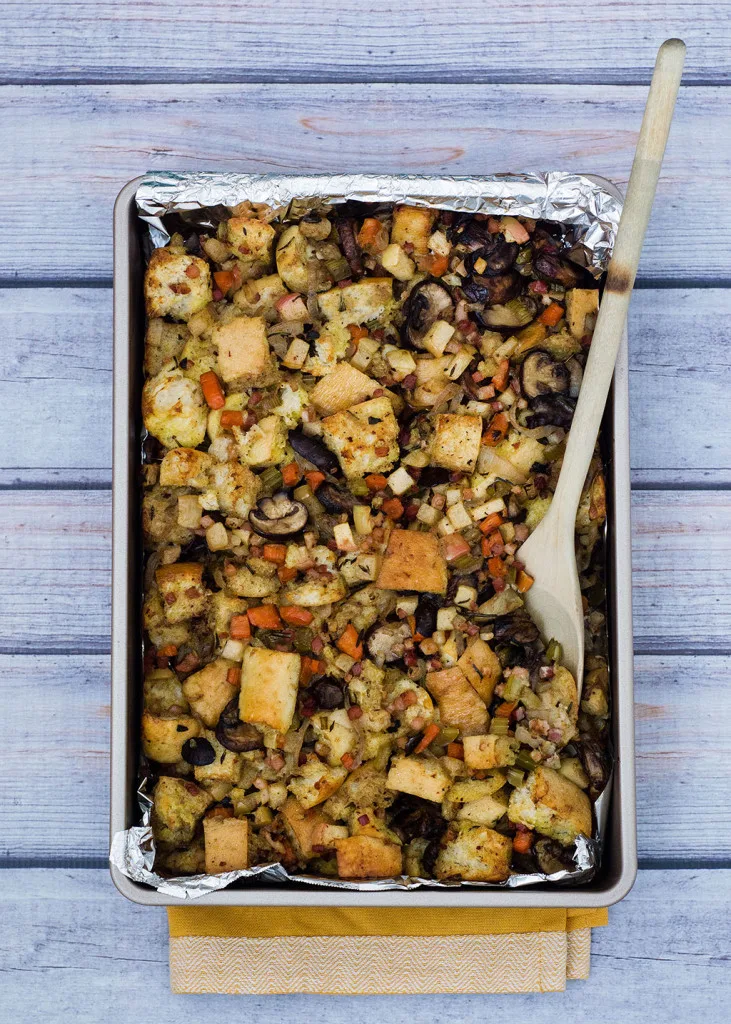 Stuffing is a great recipe for using up whatever you've got in your fridge. You can add in or leave out whatever, and as long as you've got stale bread and some chicken stock, it will come out just fine. Don't have shallots on hand? Use onions. Don't like mushrooms? Leave 'em out! Have some pears, but no apples? Use the pears instead! I'm not a fan of thyme myself, so I used less of that than the other herbs. If you like it, feel free to up the amount to 2 tablespoons.
Also, I'm not kidding in the recipe instructions to use the biggest skillet and mixing bowl you've got. While sauteeing the veggies, every time I tried to give them a stir, something would fall out of the skillet (hence my Instagram comment, "I think I'm gonna need a bigger skillet."). Same with the mixing bowl. Do you have a huge punch bowl? Use that. But don't even think about scaling down the recipe — it's so delicious, even if there's only two people, you'll want a whole pan of this stuffing.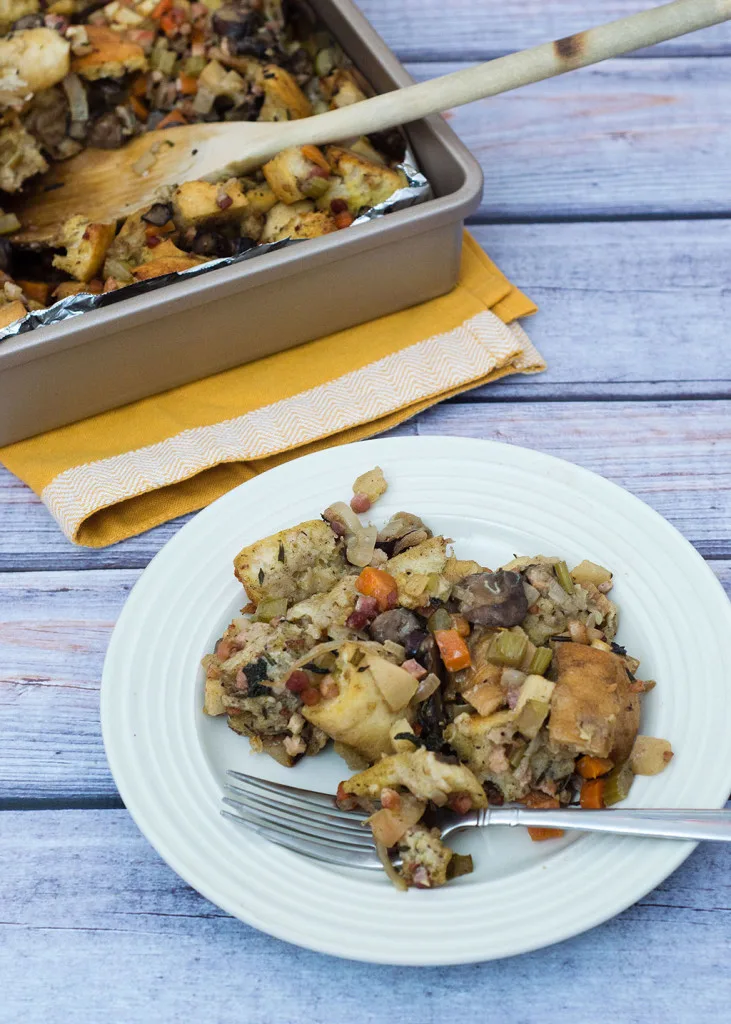 If you want to make this up to a day ahead of time, prepare it all the way up to where you transfer the stuffing to the baking dish. Cover it with the sprayed tinfoil, and pop it in the refrigerator. On the day you want to serve it, let it come to room temperature (at least half an hour), then bake 30 minutes covered, and 15 minutes uncovered.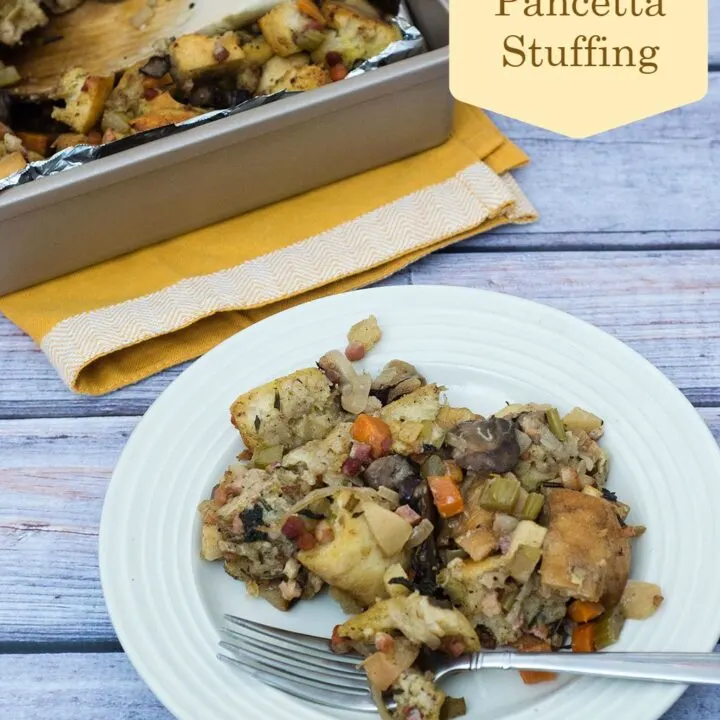 Ciabatta, Apple and Pancetta Stuffing
Cook Time:
1 hour
15 minutes
Total Time:
1 hour
35 minutes
Ingredients
6 tablespoon unsalted butter, divided
8 oz diced pancetta
2 cups shallots, sliced
2 carrots, peeled and diced
3 celery stalks, diced
1 teaspoon kosher salt, or to taste
1 teaspoon black pepper
2 tablespoon chopped fresh rosemary
2 tablespoon chopped fresh sage
1 tablespoon chopped fresh thyme
3 cloves garlic, chopped
1 honeycrisp apple, diced
1 teaspoon ground cinnamon
2 cups wild mushrooms, sliced
1 pound stale ciabatta, cut into 1-inch cubes
1 cup chicken stock, preferably homemade, or more
2 large eggs, beaten
Instructions
Preheat oven to 350. Line a 9 x 13-inch baking dish with tinfoil. Melt 2 tablespoons of the butter in your largest skillet over medium heat.
Add the pancetta and saute about 10-12 minutes, until crisp. Transfer pancetta to your largest mixing bowl with a slotted spoon, leaving the rendered fat from the pancetta in the skillet.
Add the remaining butter in the skillet, allow it to melt, and add the shallot, carrots, celery, salt and pepper. Turn heat up to medium-high. Saute the vegetables a few minutes, then add the mushrooms, rosemary, thyme, sage and garlic.
In a small mixing bowl, toss the cinnamon with the diced apple, then add to the skillet. Saute until the apples are tender, stirring occasionally, about 5 minutes.
Transfer the onion mixture to bowl with the pancetta, stir to incorporate.
Add the ciabatta, and toss with the vegetable/pancetta mixture. Pour in enough stock to lightly coat the bread, then mix in the eggs. Toss to distribute the egg.
Transfer the stuffing to prepared baking dish. Spray a sheet of tinfoil with nonstick spray, then place sprayed-side-down on the baking sheet to cover the stuffing. Bake the stuffing for about 30 minutes. Remove the tinfoil and continue to bake about 15 minutes, until the top of the stuffing is crisp and golden.
Adapted from Food Network