When the temperature rises, you need a meal that is filling, flavorful, and doesn't heat up your kitchen. This salad combines healthy veggies, beans, and a spicy dressing — no cooking required!
We've been having crazy heat waves in Philadelphia this summer. The most recent one lasted for 8 days! High heat and high humidity means some times, you just CAN'T turn on the stove to get dinner on the table.
Since there's only so many nights both I and my wallet can handle deli take-out sandwiches, I began to think of no-cook dinners. My mind first went to dinner salads, but most involve adding protein like chicken or steak, which need to be cooked. Oh, sure, there are pre-cooked chicken strips available at grocery stores, but they are really expensive.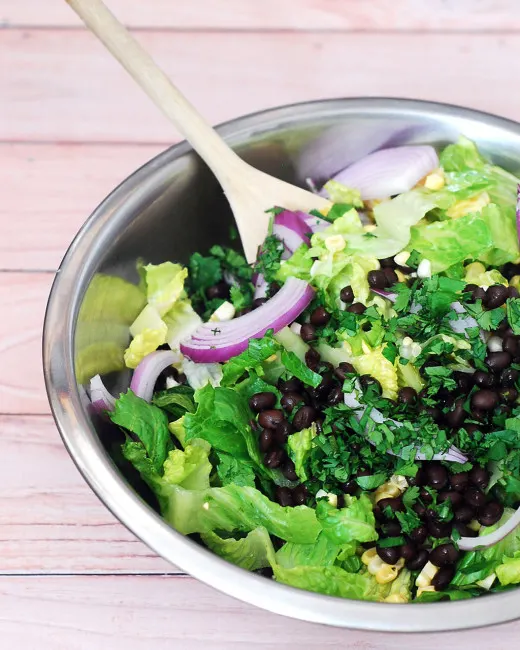 Dave suggested adding a protein that didn't need to be cooked: beans. It never occurred to me, because I don't really like beans (it's a texture thing). But I gave them a try in this recipe, and I'm glad I did, because when mixed with the other textures of the crispy lettuce and crunchy tortilla chips, I didn't notice the beans.
We were both surprised at how filling this salad was, likely thanks to the fiber in the beans. It would taste even better with creamy sliced avocado on top, and I bought one for the salad, but it wasn't ripe in time. And the best thing about this salad was how easy it was to put together — there's no cooking involved whatsoever, not even in the microwave!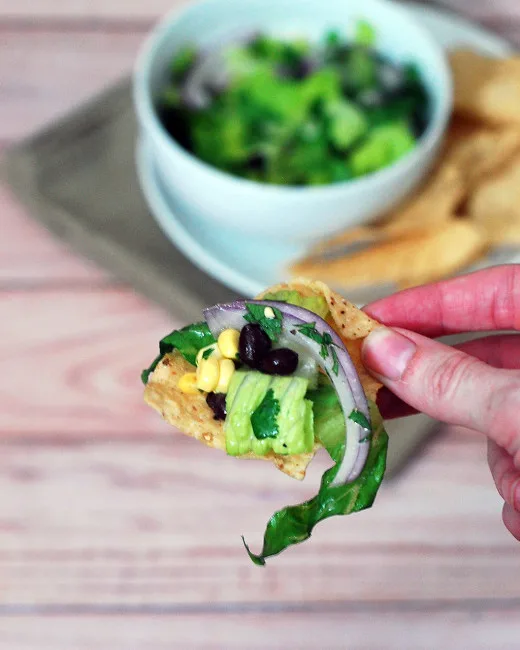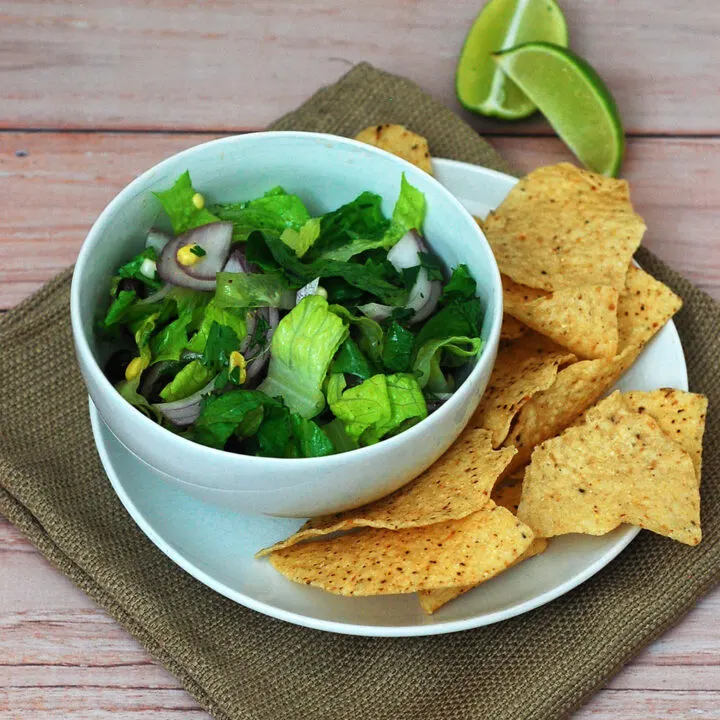 Southwestern Corn Salad #WeekdaySupper
Ingredients
½ red onion, thinly sliced
2 inch small heads romaine lettuce, cut into 1- strips
2 ears of corn, kernels stripped
1 15.5- ounce can black beans, rinsed
½ cup fresh cilantro
¼ cup extra-virgin olive oil
¼ cup fresh lime juice
½ teaspoon ground cumin
Salt and black pepper
9- ounce bag tortilla chips
Instructions
Place the red onion strips in a bowl of ice water and set aside for ten minutes, then drain.
Place the onion, lettuce, corn, black beans and cilantro in a large mixing bowl.
In a small mixing bowl, whisk together the extra-virgin olive oil, lime juice and cumin until smooth. Season with salt and pepper to taste and whisk again.
Pour the dressing over the salad and toss until combined.
Serve salad with tortilla chips on the side for scooping.
Recipe slightly adapted from Real Simple
Discover more #WeekdaySupper recipes this week
Monday - Cobb Salad Bar by Cindy's Recipes and Writings
Tuesday - Simple Summer Spanish Tapas by Caroline's Cooking
Wednesday - Italian Pressed Sandwich by A Kitchen Hoor's Adventures
Thursday - Southwestern Corn Salad by The Redhead Baker
Friday - Trio Salad by The Freshman Cook