Need a fast, easy snack for Saint Patrick's Day? Make a batch of these muddy buddies (aka puppy chow): cereal coated in chocolate, peanut butter, and powdered sugar, plus Lucky Charms marshmallows and M&Ms!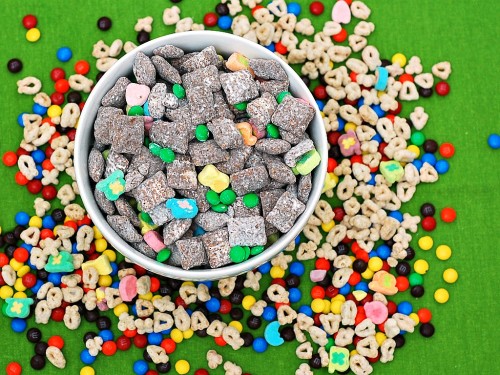 When I mention that I'm a food blogger, more often than not, people ask, "What do you do with all that extra food??" Well, there's not as much extra food as you would think. Many of the recipes I post are things my family eats and enjoys.
Other times (like this one), I'll make a half-batch of what I'm planning to blog, so there's not as much extra hanging around. And there are times (like this one) where I wish I'd made a full batch because it's so darn tasty!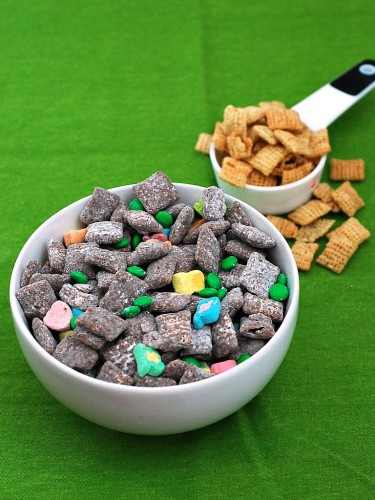 Seriously. I really like Chex. I love peanut butter. I *really* love chocolate. And marshmallows. And M&Ms. You'd think I'd have had the forethought to realize, "Hmm, I'm taking ingredients I really like and combining them into one epic snack. Maybe I should make a FULL batch."
Alas. I did not. Thankfully, it's so easy to make, it's no problem to make another half-batch. Or a full batch. And hide in the closet with the bag because I don't want to share.
Don't judge.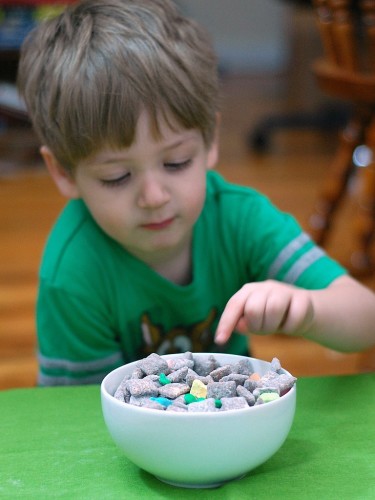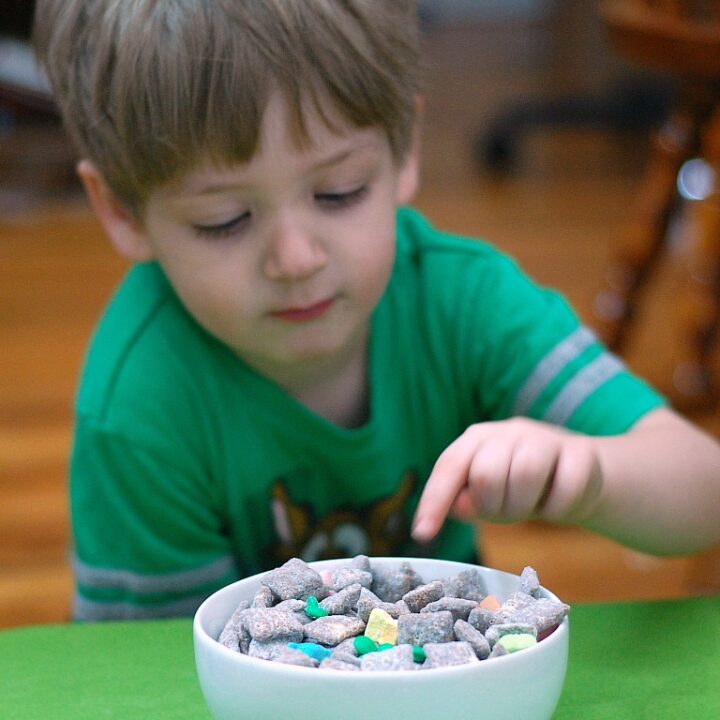 St. Patrick's Day Muddy Buddies
Ingredients
9 cups Rice Chex cereal, 8.5 oz
1 cup mini semisweet chocolate chips
½ cup creamy peanut butter
¼ cup unsalted butter
1 teaspoon vanilla extract
1.5 cups powdered sugar
1 cup Lucky Charms marshmallows
½ cup green M&Ms
Instructions
Line a baking sheet with parchment or wax paper set aside. Pour the Chex cereal into a large mixing bowl. Set aside.
Place the chocolate chips, peanut butter and butter in a microwave-safe bowl. Heat on high for 1 minute, then stir. Heat an additional 30 seconds if necessary, until mixture is smooth. Stir in the vanilla extract.
Pour the chocolate mixture over the cereal, and stir with a folding motion until all of the cereal is coated. Spread the cereal on the prepared baking sheet and let sit for about 15 minutes to cool.
Place the powdered sugar in a gallon-sized zip-top plastic bag. Add the cereal. Seal the bake and shake until all of the cereal is coated.
Pour the cereal into a serving bowl. Add the marshmallows and M&Ms, toss to distribute. Store sealed in an airtight container at room temperature. That is, if there's any left to store.
Adapted from the official General Mills Chex website