This Friday marks the first day of spring! Get your hands on some seasonal fresh rhubarb, and make this delicious chutney with goat cheese on crostini, or spoon it over pork tenderloin.
It's nearly spring! I've already babbled about my excitement in other posts. My excitement over the ability to go outside without a jacket. To wear maxi skirts and flip flops. The opening of local farmers markets. Fresh spring produce.
Last spring, I tried rhubarb for the first time. I was always hesitant to try it before, and I really couldn't tell you why. Probably left over from my picky childhood days, when I wouldn't touch anything that either looked or sounded funny.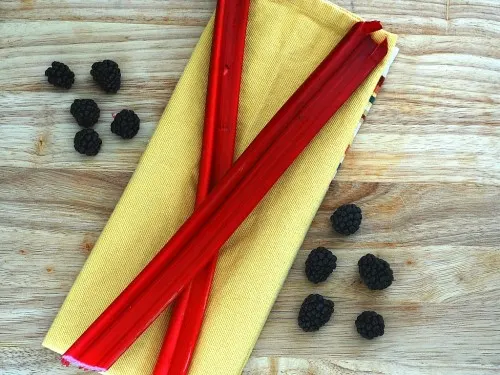 I discovered that I actually really like rhubarb! It's a vegetable, though since it's often used as a fruit, it is sometimes classified that way. It tastes sour when eaten raw, and cooking brings out the sweet/tart side of it. It's very low-calorie, and loaded with several B-complex vitamins (such as folates, riboflavin, niacin and vitamin B-6), vitamin A and vitamin K.
This chutney walks a fine line of being sweet AND savory. It could be enjoyed at any meal: on toast for breakfast, stirred into brown rice for lunch, or spooned over pork tenderloin for dinner. It keeps very well for about two months, stored in an airtight container in the refrigerator. If you can't find fresh rhubarb, you can use an equal amount of frozen rhubarb. You can add it to the saucepan still frozen, it will just take longer to cook and thicken.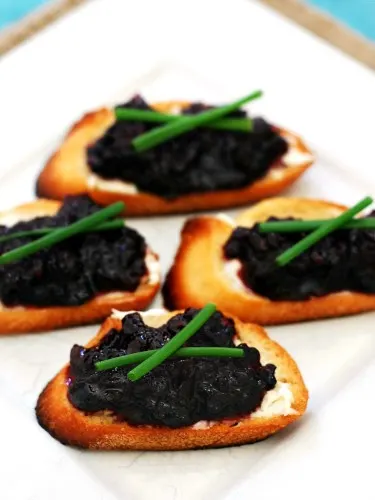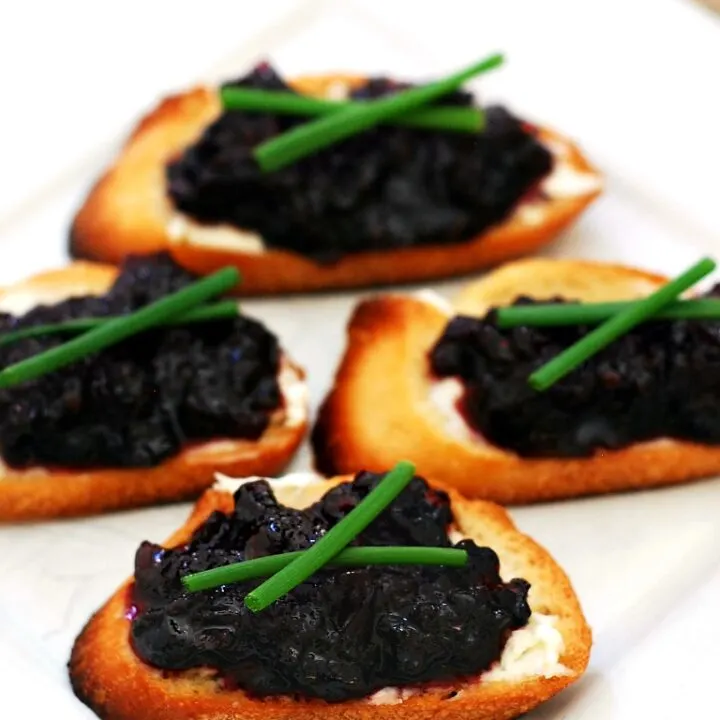 Blackberry-Rhubarb Chutney and Goat Cheese Crostini
Ingredients
For the rhubarb chutney:
½ cup granulated sugar
½ cup packed dark brown sugar
2 cup fresh blackberries
1 cup thinly sliced rhubarb, about 1 fresh stalk
1 cup thinly sliced celery
½ cup chopped red onion
½ cup dry red wine
2 tablespoon red wine vinegar
1 teaspoon fresh ginger, minced
¼ teaspoon ground cinnamon
¼ teaspoon salt
⅛ teaspoon ground cloves
1 clove garlic, grated
For the crostini:
1 inch French baguette, cut into ⅛- thick slices
Nonstick cooking spray or olive oil
Fresh goat cheese
Parsley or chives, for garnish
Instructions
Combine all of the chutney ingredients (sugar through garlic clove) in a medium saucepan. Bring to a boil over high heat, then reduce heat to low and simmer, uncovered, for 45 minutes to an hour, stirring frequently, until thick. Set aside to cool.
Preheat oven to 400 degrees.
To prepare crostini, spread baguette slices on a baking sheet. Mist lightly with cooking spray, or brush with a scant layer of olive oil.
Bake the slices in the oven for 5 to 10 minutes, until lightly toasted.
Spread goat cheese on each crostini, then top with some of the rhubarb chutney. Garnish with a small sprig of parsley or a couple of pieces of snipped chives.
Chutney recipe slightly adapted from Cooking Light