Vanilla-pear bread pudding baked in muffin tins are an easy, delicious, portion-controlled dessert. Serve warm with a drizzle of white chocolate sauce.
I live in a small apartment in a big city. We're lucky to even have closets in our apartment -- one in each bedroom, and a tiny hall closet with room for approximately 3 winter coats. No linen closet. Kitchen storage? Ha! We have 2 full-size cabinets, and 1 half-size cabinet.
We brought in an Ikea counter with drawers and shelves, added a pot rack, and hung additional shelves on the wall. But I really have to keep myself in check, limiting the pots, pans and kitchen tools I have. For that reason, I focus on cookware, bakeware and tools that can perform more than one task.
Take muffin tins, for example. Sure, they can be used for muffins, and cupcakes. I also use them to bake mini cheesecakes, mini monkey breads, mini meatloaves and mini bread puddings.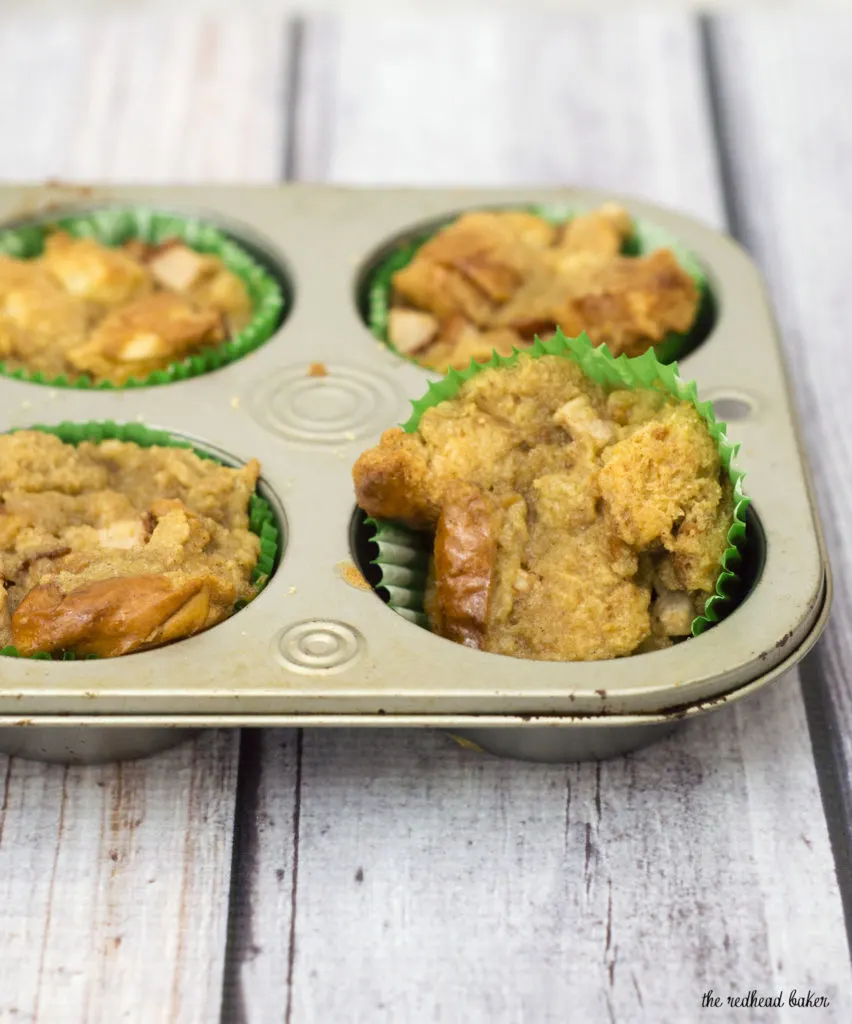 Bread pudding is what some consider an "old-fashioned" dessert. It's not served quite as often as it was in its heyday. It originated in the 12th or 13 centuries as a way for cooks to make use of stale bread instead of letting it go to waste. There are variations of it in many different cultures around the world. Some consider it a savory dish; others serve it as a sweet dish.
This is definitely a sweet bread pudding. It combines stale brioche bread, diced pear, and a vanilla-and-cinnamon-infused custard. Bread pudding can be served warm or at room temperature, but I almost always prefer it warm, with sauce poured over top. I paired this bread pudding with a simple-to-make white chocolate sauce (essentially liquid white chocolate ganache).
Both the bread pudding and the white chocolate sauce can be made up to a day ahead of time and re-warmed. Store both in the refrigerator until ready to serve.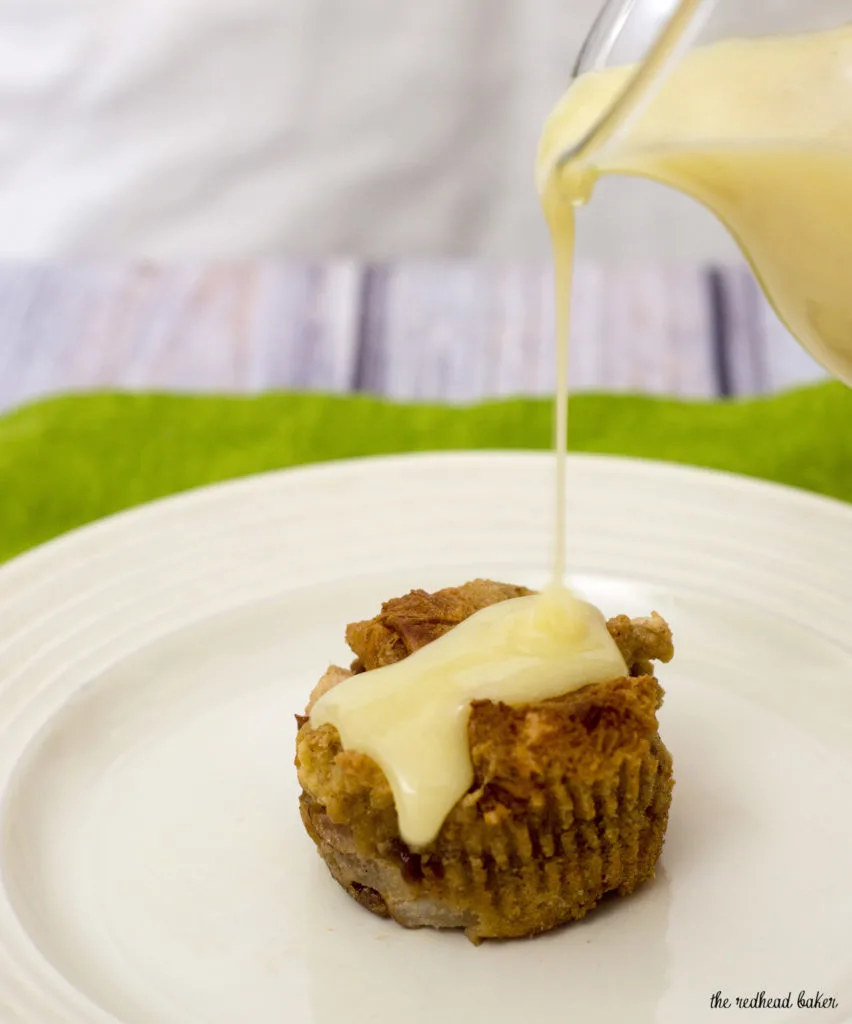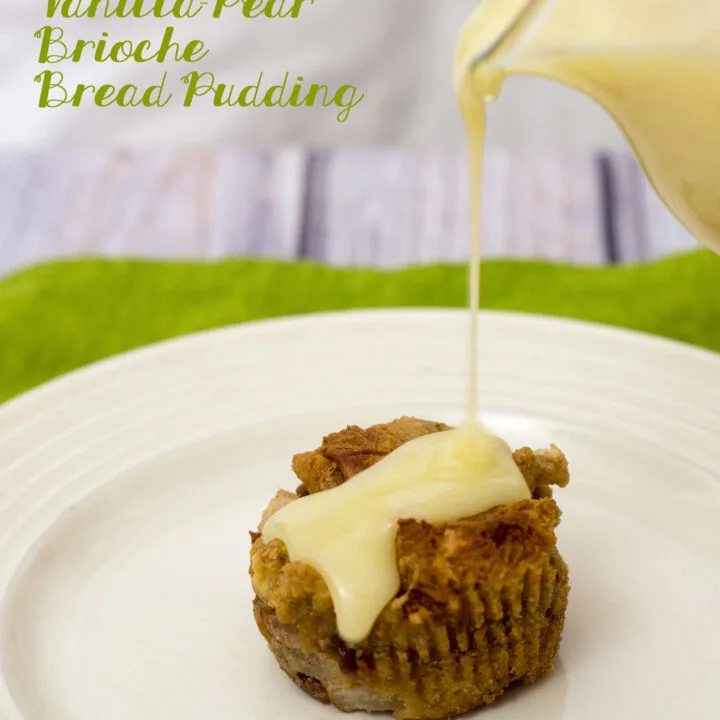 Vanilla-Pear Brioche Bread Pudding #ProgressiveEats
Ingredients
For the bread pudding:
12 slices thick stale brioche bread, cut into 1-inch cubes
2 inch D'anjou pears, cored and cut into ½- dice
3 large eggs
1 cup heavy cream
1 cup whole milk
1 cup dark brown sugar
1 teaspoon cinnamon
1 tablespoon vanilla bean, split and scraped (or 1 vanilla paste)
Pinch of salt
For the white chocolate sauce:
8 oz high quality white chocolate, chopped finely, not chocolate chips
½ cup heavy cream
Instructions
Preheat oven to 350 degrees. Line 12 wells of a muffin tin with paper liners and spray with nonstick spray.
In a large bowl, toss together the bread cubes and diced pear.
In a smaller mixing bowl, whisk together the eggs, heavy cream, milk, sugar, cinnamon, vanilla bean seeds (or paste, if using) and salt.
Pour the liquid over the bread/pear mixture, and let soak for a few minutes.
Use a large scoop to portion the mixture into the prepared muffin tins. Bake for 25 minutes, until the puddings are set.
While baking, make the sauce: place the chopped white chocolate in a small bowl.
In a small saucepan, heat the cream of medium heat just until bubbles form at the edges. Pour the warm cream over the white chocolate. Let stand for 30 seconds, then stir until smooth.
Remove the puddings from the muffin tins, and remove from the paper liner. Drizzle sauce over warm puddings and serve.
Recipe by The Redhead Baker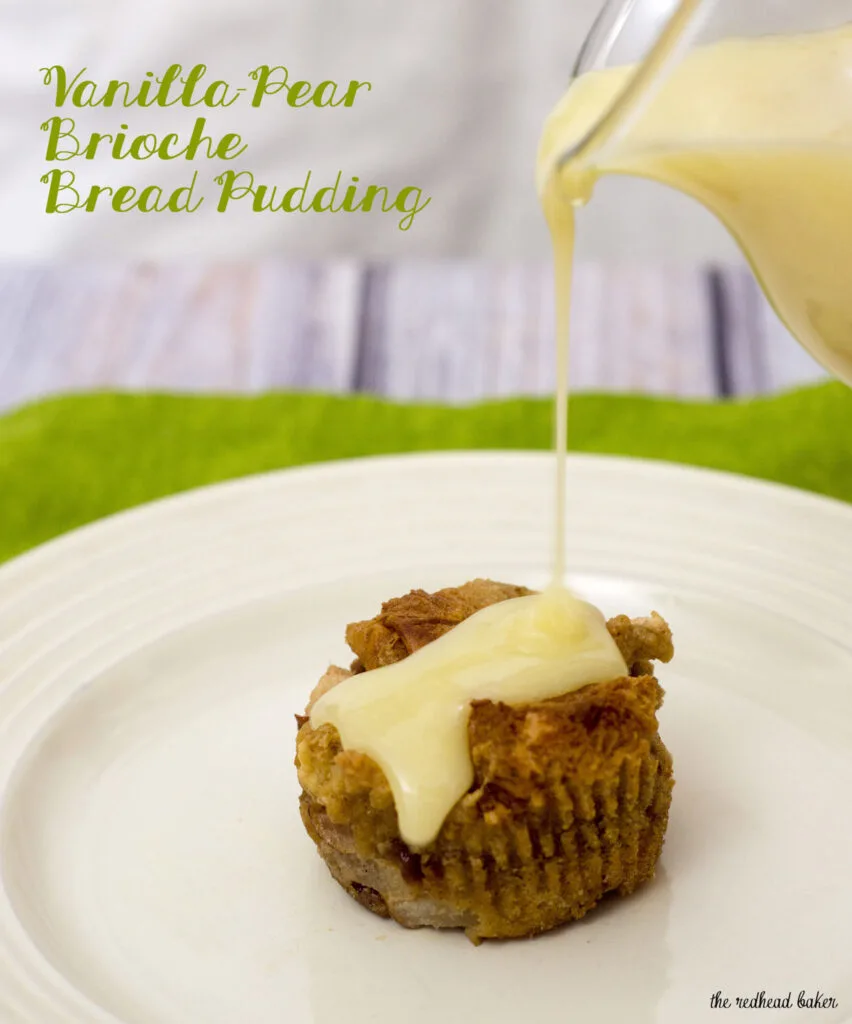 Welcome to Progressive Eats, our virtual version of a Progressive Dinner Party. This month we're featuring dishes made in a muffin tin ranging from individual desserts to savory entrees and/or appetizers. Our event is hosted by Liz Berg who blogs at That Skinny Chick Can Bake. With built in portion control, these recipes are perfect, lighter-fare for your summer dining. You'll certainly find a delicious recipe to add to your repertoire!
If you're unfamiliar with the concept, a progressive dinner involves going from house to house, enjoying a different course at each location. With Progressive Eats, a theme is chosen each month, members share recipes suitable for a delicious meal or party, and you can hop from blog to blog to check them out.
Savory Recipes
Sweet Recipes