Rich slices of French toast are topped with vanilla-apple compote and caramel syrup. The compote and syrup can be made ahead and rewarmed before serving.
Welcome to the fourth annual #BrunchWeek hosted by Terri from Love and Confections and Christie from A Kitchen Hoor's Adventures. We are so excited to have you join us this year as we celebrate brunch and prepare for Mother's Day. Thirty-seven bloggers from around the country will showcase their best brunch dishes, from cocktails to cakes, breakfast breads, tarts, and quiche — there is something for everyone!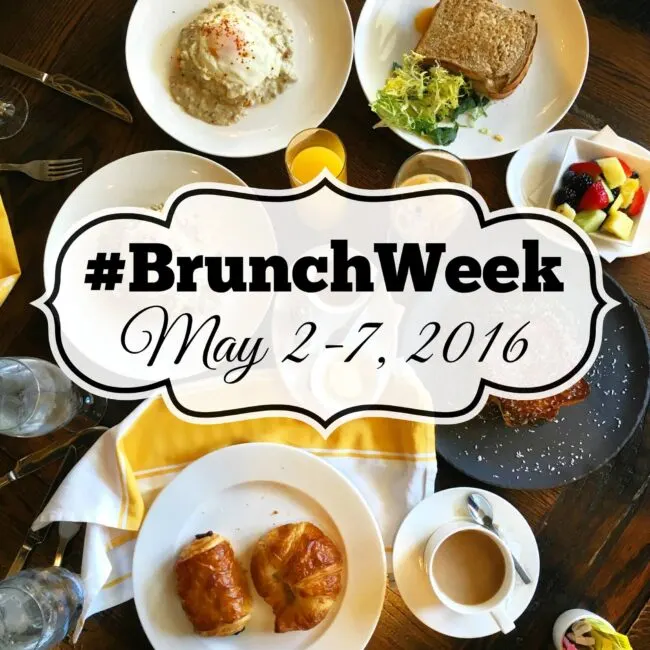 If I go out for breakfast or brunch, and there's French toast on the menu, you'd be safe in betting money that that's the dish I would order. I love French toast.
When brainstorming ideas for the recipes I wanted to create for BrunchWeek, I knew I wanted to do a French toast with fruit compote topping. Then I received beautiful Breeze apples in the mail from Sage Fruit, and was reminded of a dish I'd eaten at brunch this past Easter: caramel apple French toast.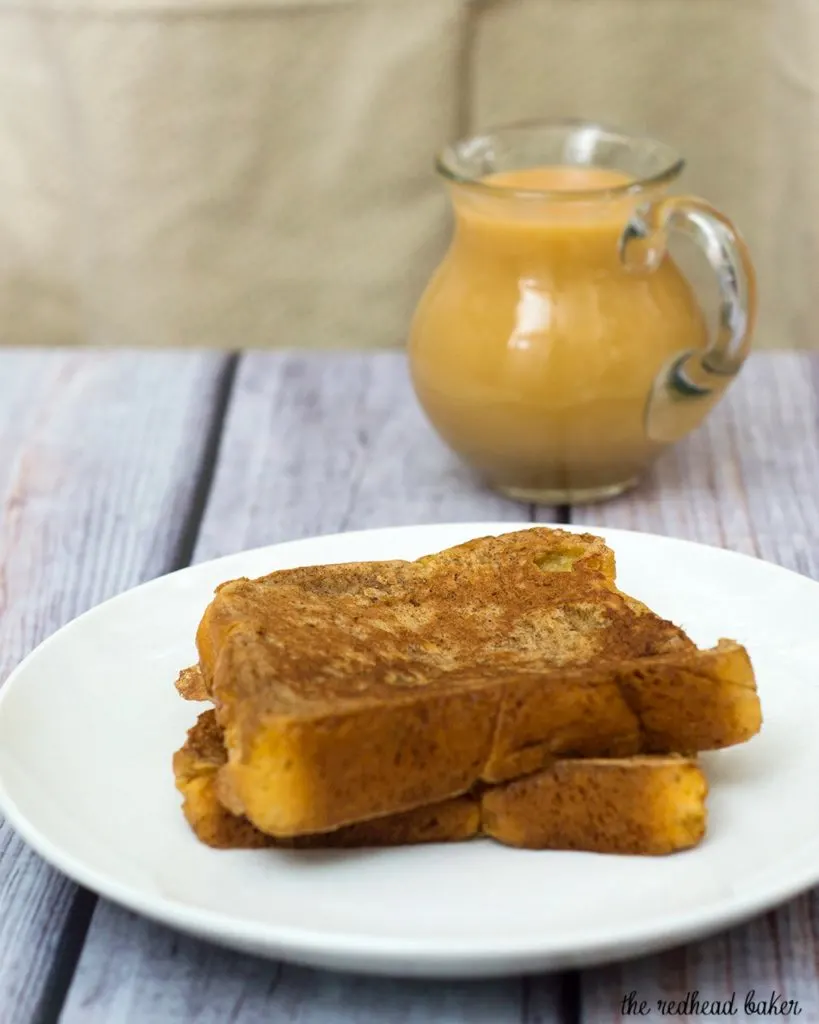 First, the French toast: brioche is almost a must. The egg mixture for the soak is rather simple, just eggs, milk, vanilla, sugar, cinnamon, and a pinch of nutmeg. I first tried to fry these in a cast-iron pan, and it didn't go well. The cast-iron heated the butter too high, and the toast scorched. Then I used my electric griddle, and the slices cooked beautifully.
I based the compote on a recipe for vanilla Honeycrisp applesauce that I'd made for my son last year. Breeze apples are not widely available in the US yet, so most varieties of baking apples will work well for this compote, such as Pink Lady, Gala or Fuji. If you don't want to spend the money on a vanilla bean, but still want the flecks, use vanilla bean paste.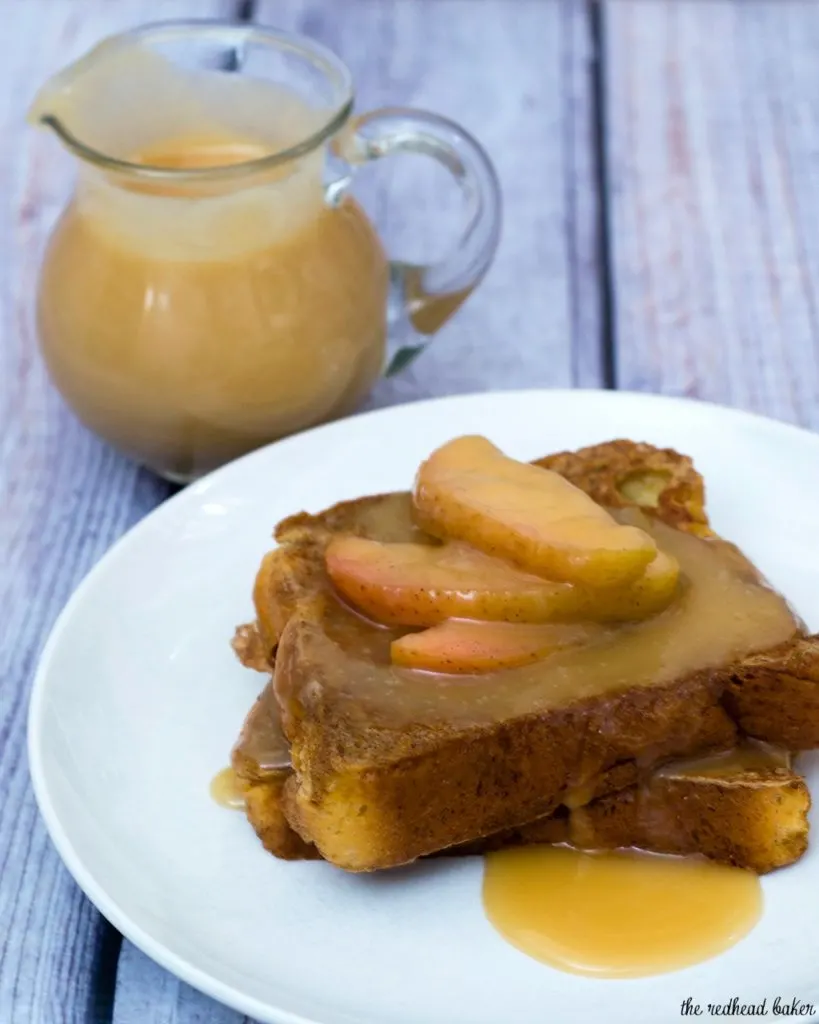 The caramel sauce is so insanely delicious, I've poured it on just about everything I can think of: French toast, pancakes, ice cream, fresh fruit, into coffee, etc. Use the biggest pot you have to cook it. When it starts bubbling, it rises really high and really fast.
This is a really decadent dish, worthy of a special-occasion brunch. The best part is that the compote and syrup can be made ahead of time, and warmed while you cook the French toast. The French toast could be made ahead, too, but I prefer it cooked fresh. I think the crisp outer layer turns a bit rubbery when it's reheated.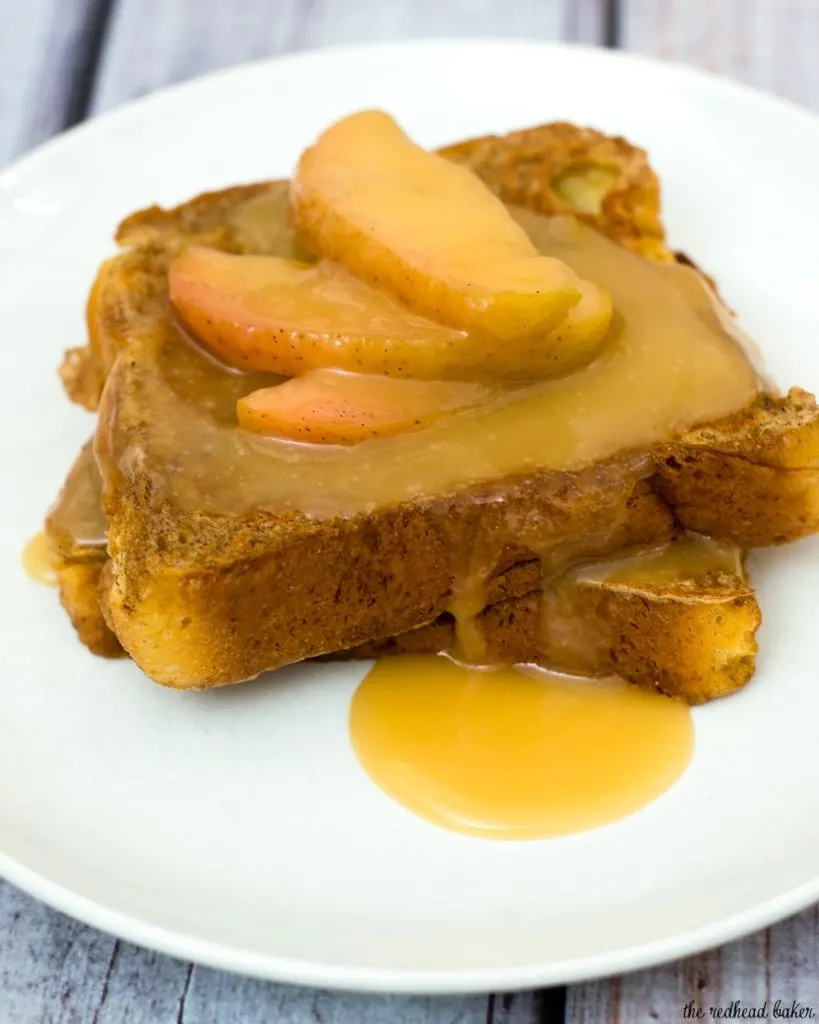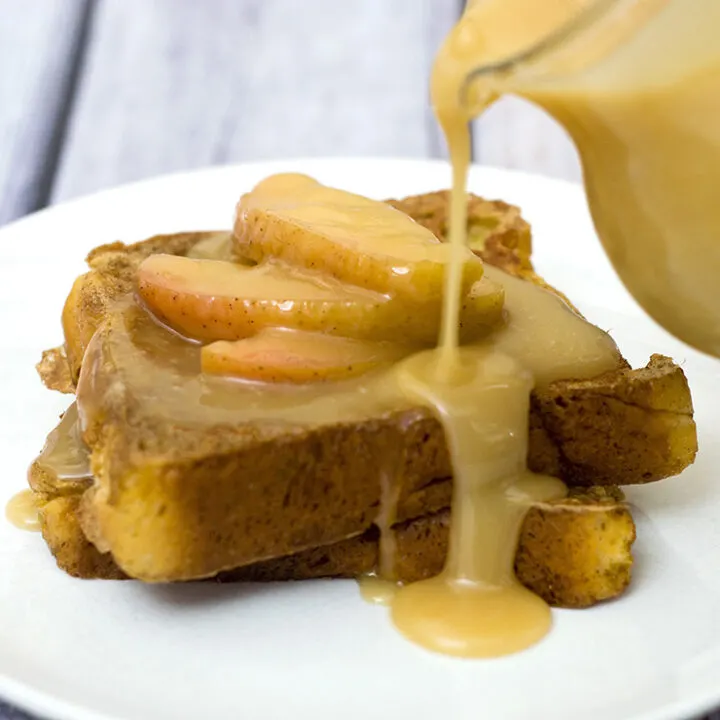 French Toast with Apple Compote and Caramel Syrup #BrunchWeek
Ingredients
For the compote:
½ of a vanilla bean
1 lb Breeze apples (Pink Lady, Braeburn or Fuji would work as well)
1 cup water
1 ½ teaspoon fresh lemon juice
3 tablespoon to 4 Dixie Crystals sugar
1 ½ tablespoon cornstarch dissolved in 1 ½ tablespoon cold water
For the caramel syrup:
1 ½ cups heavy cream
1 cup Dixie Crystals sugar
1 cup Dixie Crystals light brown sugar
½ cup butter*
1 teaspoon baking powder
1 teaspoon Nielsen-Massey vanilla extract
For the French toast:
1 teaspoon cinnamon
¼ teaspoon nutmeg
2 tablespoon Dixie Crystals sugar
4 eggs
4 tablespoon milk
½ teaspoon Nielsen-Massey vanilla extract
8 slices thick brioche or white bread, stale
Instructions
Make the compote: split the vanilla bean in half lengthwise. Scrape out the seeds. Combine the seeds and the bean halves with the water, lemon juice and sugar in a large saucepan.
Core the apples. Cut the apples into thick wedges, and place in the saucepan. Set over low heat for about 15 minutes, stirring occasionally, until the apples are tender but not mushy.
Pour the dissolved cornstarch/water mixture into the saucepan and stir gently. Bring the mixture to a simmer over medium heat, and cook at a bubble for 1 minute. Remove from the heat and set aside to cool. Refrigerate, covered, if not using right away.
Make the syrup: combine the cream, sugar, brown sugar, butter and baking powder in your largest saucepan. Bring to a boil over medium heat.
Remove from the heat and carefully stir in vanilla -- it will bubble vigorously. Once bubbling subsides, stir to combine. Set aside to cool. Store covered in the refrigerator if not using right away.
In a small bowl, combine the sugar, cinnamon and nutmeg. In a large bowl, whisk together the eggs, milk and vanilla. Add the sugar mixture, and whisk thoroughly. Pour into a shallow dish.
Grease a griddle with nonstick spray or butter. Dip both sides of each slice of bread in the egg mixture and fry on the griddle until golden brown, then flip and cook on the other side.
Serve two slices of French toast topped with apple compote and drizzled with caramel syrup.
Caramel syrup recipe adapted from Our Best Bites
Discover more #BrunchWeek recipes
BrunchWeek Beverages:
BrunchWeek Breads, Grains and Pastries:
BrunchWeek Fruits, Vegetables and Sides:
BrunchWeek Egg Dishes:
BrunchWeek Main Dishes:
BrunchWeek Desserts:
Disclaimer: Thank you to #BrunchWeek Sponsors: Red Star Yeast, Dixie Crystals, Cabot Cheese, Vidalia Onion Committee, Sage Fruits, Nielsen-Massey, KitchenIQ, and Le Creuset for providing the prizes free of charge. These companies also provided the bloggers with samples and product to use for #BrunchWeek. All opinions are my own. The #BrunchWeek giveaway is open to U.S. residents, age 18 & up only. All entries for the winner will be checked and verified. By entering you give the right to use your name and likeness. The number of entries received determines the odds of winning. Eight winners will be selected. The prize packages will be sent directly from the giveaway sponsors. The #BrunchWeek bloggers are not responsible for the fulfillment or delivery of the prize packages. Bloggers hosting this giveaway and their immediate family members in their household cannot enter or win the giveaway. No purchase necessary. Void where prohibited by law.