It's A Taste of Home Cooking's Recipe Swap time again — Blogger's Choice Edition! I was assigned Jaida's blog, Sweet Beginnings. I've made a few of her recipes before, including Buffalo Chicken Bites and Chicken Shawarma sandwiches.
We received our blog assignments on the same day I usually sit down to make my two-week meal plan. I made my plan, and bought all the groceries before I remembered that I'd forgotten to choose a recipe from the assigned blog. I was trying to decide which recipe to bump when The Mister reminded me that I didn't have to choose a dinner recipe.
So, I browsed through the Breakfast items in her recipe index. There were quite a few recipes that sounded good, but I finally settled on a fruit-filled lemon-and-blueberry scone, mostly because I wanted to adapt it to use some of the Meyer lemons I had bought at Wegman's.
Meyer lemons are a cross between regular lemons and oranges. They are sweeter than regular lemons, and less tart. We're currently about halfway through Meyer lemon season, which runs from December through April.
I love the flavor of the Meyer lemons in these scones. They are light and tender, and bursting with blueberries. They're a bright, delicious start to the morning.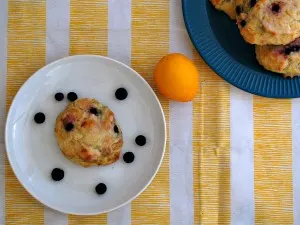 Meyer Lemon and Blueberry Scones
Adapted from Sweet Beginnings
Ingredients
1 large egg
⅔ cup reduced fat buttermilk
Zest from 2 meyer lemons
2 cups all-purpose flour
3 tablespoons sugar
1 tablespoon baking powder
¼ teaspoon salt
5 tablespoons cold unsalted butter, cut into cubes
½ pint fresh blueberries (or 4 ounces frozen unsweetened blueberries, thawed)
¼ cup heavy cream
½ cup confectioners' sugar
1 tablespoon freshly squeezed meyer lemon juice
Directions
Preheat your oven to 400 degrees.
In the bowl of a food processor, pulse together the flour, sugar, baking powder and salt two or three times until evenly distributed. Add the butter cubes and pulse 6 to 8 times, until mixture resembles coarse meal.
In a small bowl, whisk together the egg, buttermilk and lemon zest. Add to the food processor, and pulse 3 to 5 times, just until dough comes together in clumps.
Scrape the dough out onto a lightly floured work surface and gently knead a few times, dusting with a little extra flour if dough is too sticky. Gently flatten the dough, scatter the blueberries across the surface, and gently fold the dough a few times, taking care not to crush the blueberries.
Divide the dough into 6 portions (or 8, for smaller scones), place on a parchment-lined baking sheet and shape as preferred (circles, triangles, etc.).
Bake for 18 to 20 minutes (15 to 18 minutes for smaller scones), then remove to a wire rack to cool completely.
Whisk together the confectioners' sugar and the meyer lemon juice until smooth. Dip the top of each scone into the glaze, then set aside to dry. Store at room temperature in an air-tight container.
Number of servings (yield): 6 to 8 scones