This is a sponsored post on behalf of OXO. All opinions are my own. Sweet potato noodle salad swaps spiralized sweet potatos for pasta, served over spinach and apples with a delicious and tangy warm sage-brown-butter dressing.
As always, I'm a little behind in trying the latest trends. "Spiralizing" has been around for at least a year. I've wanted to try it, mostly to see if I could get my son to eat some vegetables that way, but kept putting off the purchase. Then OXO asked if I was interested in developing a recipe using its new hand-held spiralizer, and I said yes!
It's a compact little gadget, about 3 inches in diameter, so it fits neatly into my already-crowded utensil drawer. It comes with a cap that doubles as a finger-protector to keep your fingers safe as you spiralize the end of your vegetable. I thought it would take a lot of physical effort to run a sweet potato through the spiralizer, but I was wrong. I found it easier to spiralize the sweet potato than to cut it into wedges with a chef's knife.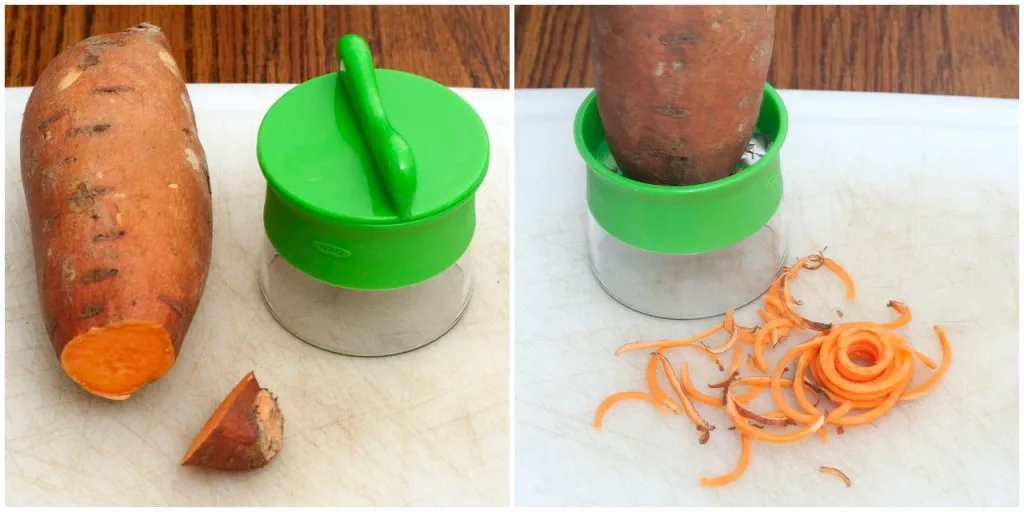 Dave and I both really enjoyed this salad. While I was more than satisfied with one serving for dinner, he didn't think it was filling enough, so I would categorize this as a side dish or a light lunch. You could add grilled chicken strips for extra protein to make it more filling.
Sweet potato noodles cook in just a fraction of the time compared to pasta noodles, and the dressing comes together in 10 minutes, so this is perfect for a quick, light weekday lunch or dinner. This recipe requires minimal preparation, and the spiralizer is very easy to clean since it's dishwasher safe.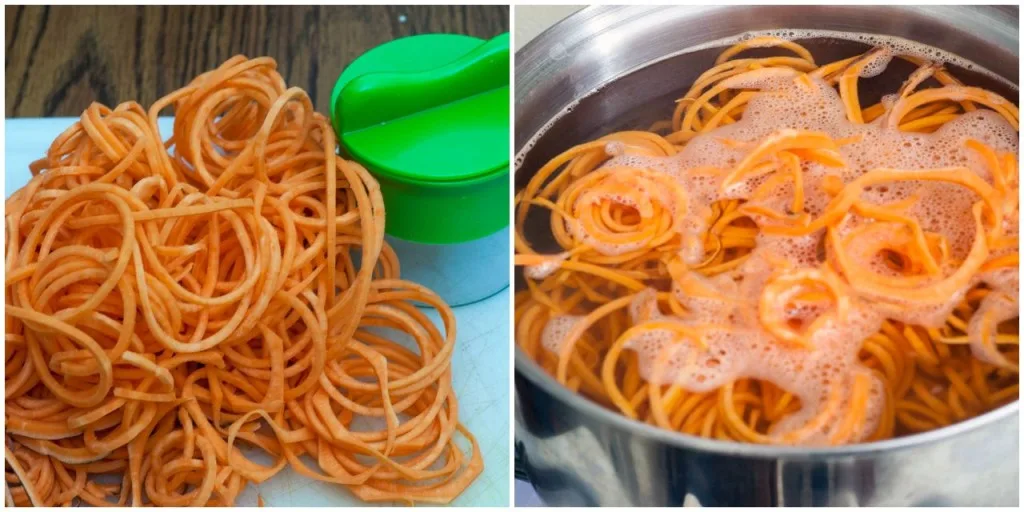 I can't wait to try spiralizing all kinds of veggies — carrots, zucchini, squash, cucumber, beets. Use spiralized veggies in salads, as side dishes on their own, in quiches or fritattas, or as garnishes. You could even spiralize a potato for baked curly fries.
Have you tried spiralizing? What's your favorite recipe?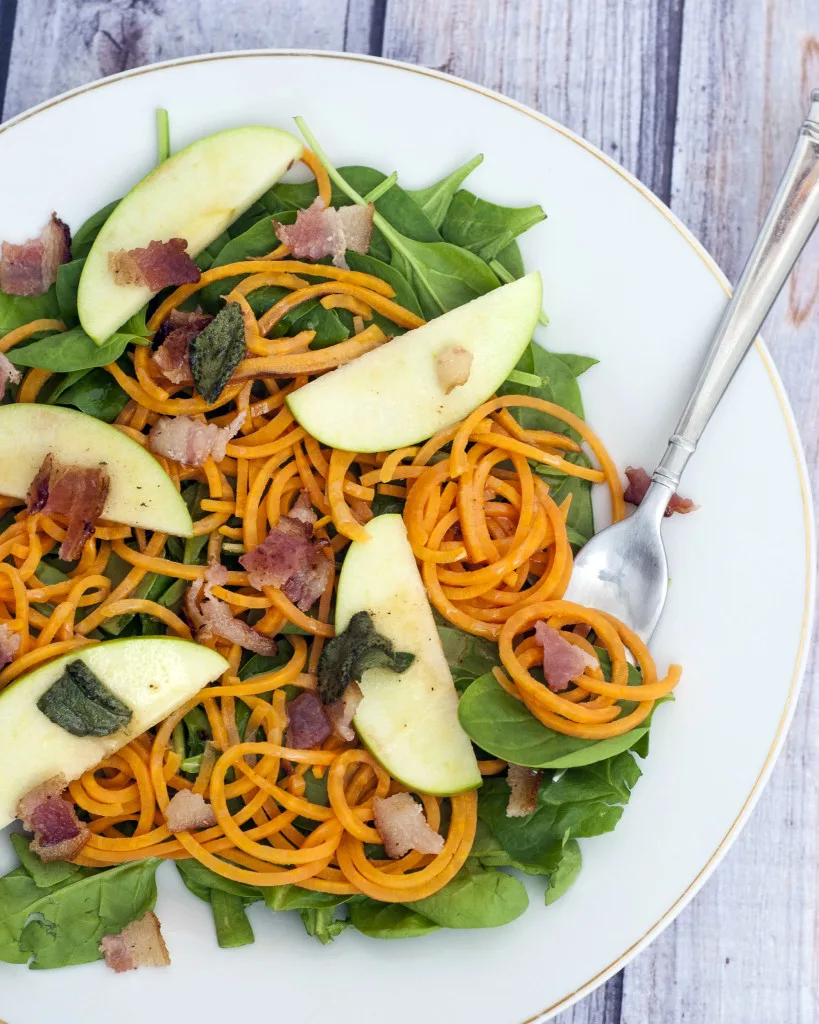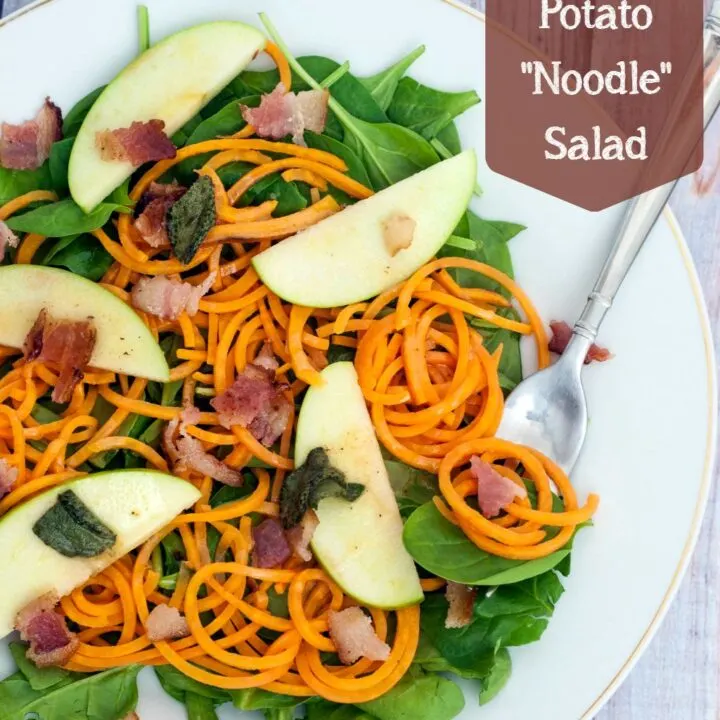 Sweet Potato Noodle Salad with Brown Butter Dressing
Ingredients
1 sweet potato, ends trimmed (peeling optional)
4 tablespoon unsalted butter, divided
4 slices bacon
6 leaves fresh sage, torn in half
2 tablespoon white wine vinegar
Salt and pepper
1 oz bag baby spinach, 6-
1 apple, sliced thin
Instructions
Run the sweet potato through the OXO Hand-held Spiralizer.
Bring a large pot of salted water to a boil. Add the sweet potato noods, and cook at a boil for about 2 to 3 minutes. Drain and set aside.
Melt one tablespoon of butter in a large skillet. Add the bacon slices, and cook until crisp. Remove the bacon to a paper-towel-lined plate and crumble.
Add the remaining butter to the skillet and cook about a minute, until the butter is browned smells nutty. Remove the skillet from the heat and add the sage.
Scrape the browned butter mixture into a bowl. Slowly drizzle in the white wine vinegar while whisking constantly. Season to taste with salt and pepper.
Divide the spinach among 6 plates, then divide the apples among each plate. Top with some of the sweet potato noodles and bacon crumbles, then drizzle on the brown butter dressing.
Recipe by The Redhead Baker