Pineapple juice, tequila and two kinds of chili powder add big flavors to moist chicken thighs. Shred leftovers (if there are any!) for tacos the next night.
I have a magazine problem. I subscribe to four food magazines. I sometimes read through them as they arrive, pin recipes that sound good, then ... hang onto them. Sometimes I save them, if I know I'm going on vacation soon, or have an appointment coming up that I expect will have a long wait-time. Still, I hang onto them. We have magazines EVERYWHERE.
I switched one subscription to digital, to see if I like it. Much like an e-book, it has its pros and cons. I find it harder to read the text on my tablet. Sure, it doesn't take up physical space in my apartment, but it takes up storage space on my tablet. I'm sure there are ways to save it to some cloud-type of storage space, but I haven't figured that out yet.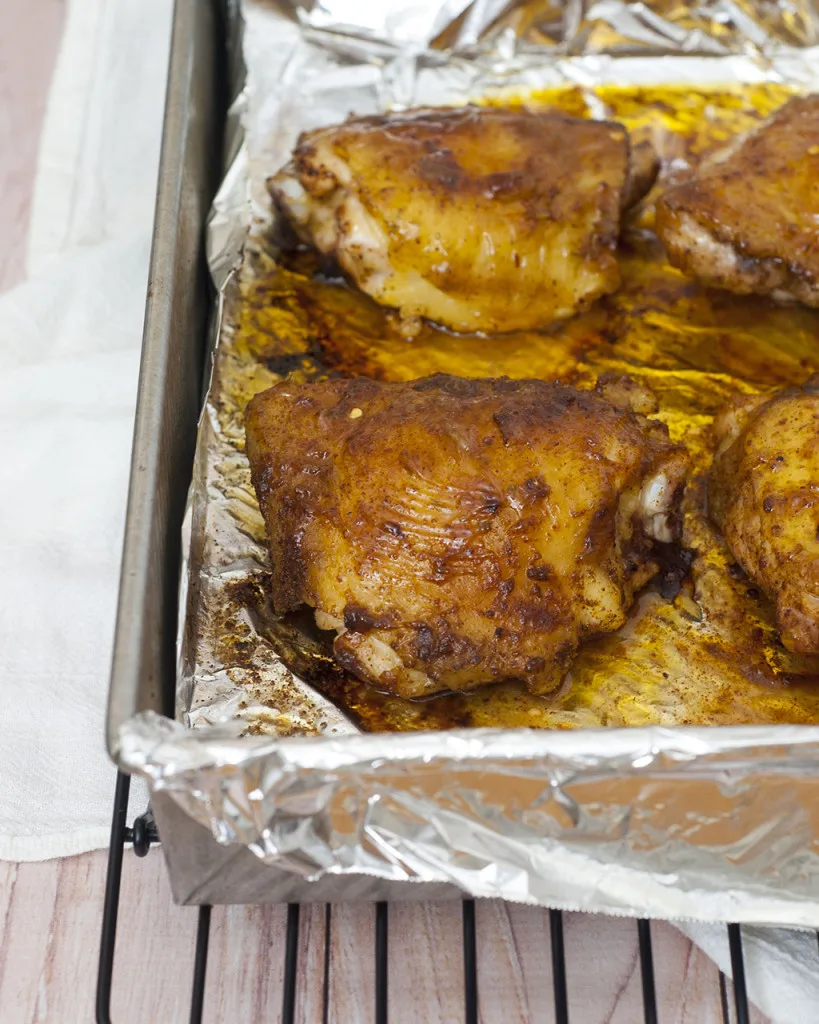 Anyway, I was flipping through an old issue of Cooking Light, and Dave happened to look over and see the tequila-glazed grilled chicken recipe. He said he wanted to try it. I made a note of it, but kept putting it off. I don't like tequila all that much (don't worry, I'd never pass on a margarita). We almost never have it on-hand.
I finally broke down and bought some for my strawberry-peach margaritas. I adapted the recipe slightly, since we don't own a grill, and chose to roast the chicken thighs instead. I love chicken thighs, because they're very difficult to screw up. You can overcook them, and they still stay moist.
But this glaze! The second I had my first bite, I was sorry I hadn't made them sooner. The glaze packs so much flavor, we were stripping every bit of chicken off the bone, and licking our fingers. The alcohol in the tequila cooks out, so it's safe to serve to children — not that my still-somewhat-picky kid would have a taste. Oh, well, on the bright side, that leaves more chicken for us!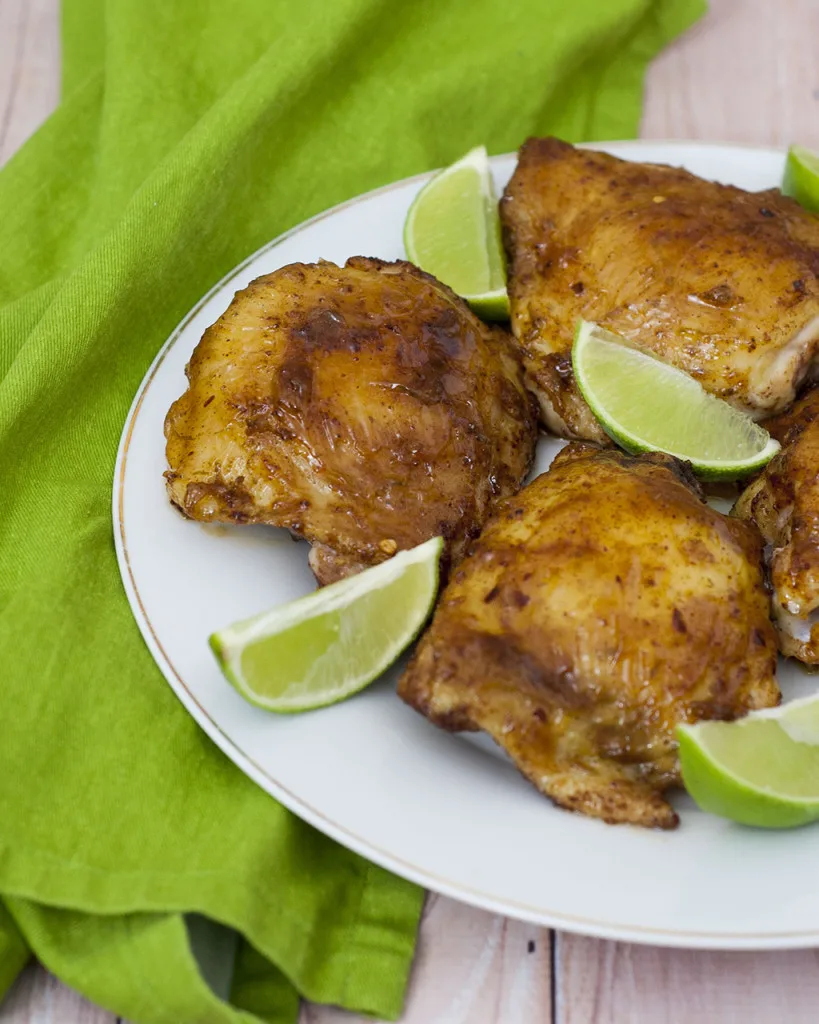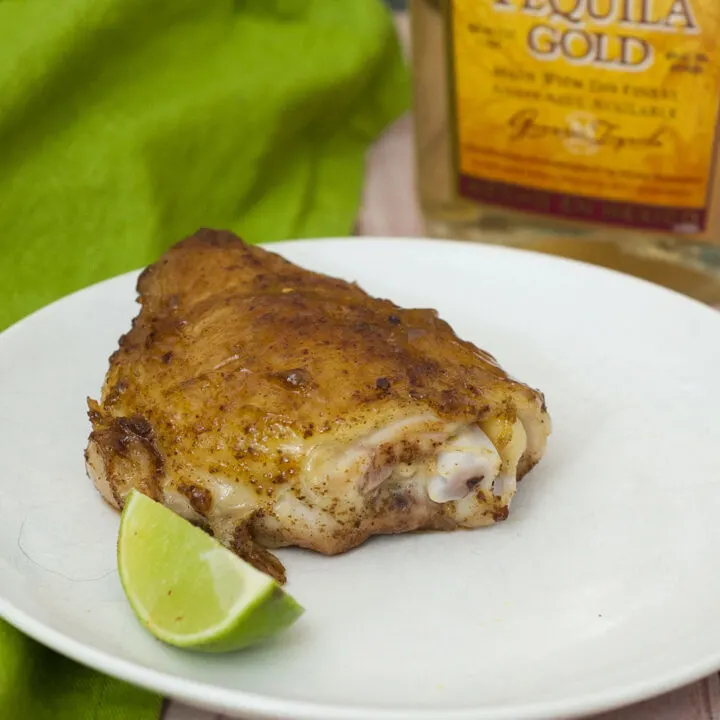 Tequila-Glazed Chicken Thighs
Ingredients
¾ cup pineapple juice
⅓ cup tequila
¼ cup honey
2 teaspoon cornstarch
2 teaspoon water
Zest and juice of one lime
Generous pinch crushed red pepper
1 ½ teaspoon ground cumin
1 teaspoon chili powder
1 teaspoon kosher salt
¼ teaspoon chipotle chile powder
6 in bone- chicken thighs, about 2 pounds
Cooking spray
Lime quarters, for garnish
Instructions
Preheat your oven to 375 degrees.
In a small saucepan set over medium-high heat, whisk together the pineapple juice, tequila and honey. Bring to a boil, and cook at a boil for 10 minutes, or until the mixture is reduced to ¾ of a cup.
In a small bowl, stir together the cornstarch and water until smooth. Add to the saucepan, whisking constantly, and bring to a boil. Cook the mixture at a boil, whisking constantly, for a minute. Remove the saucepan from the heat, and stir in the lime zest, lime juice, and red pepper flakes. Scoop ⅔ of the mixture into a bowl.
Combine the cumin, chili powder, kosher salt and chipotle chili powder. Sprinkle evenly over both sides of the chicken.
Line a 9x13 baking pan with tinfoil, and spray with nonstick cooking spray. Place the chicken in the pan skin-side down, and roast for 10 minutes. Glaze the chicken with the reserved ⅔ of the glaze on both sides. Flip the chicken skin-side up, and roast another 10 minutes. Wash your brush to prevent cross-contamination.
Glaze the top of the chicken with the reserved ⅓ of the tequila mixture. Roast another 5 minutes, or until the chicken reaches an internal temperature of 165 degrees. Remove the chicken from the oven and set aside for 10 minutes to rest.
Serve with lime quarters for garnish.
Adapted from Cooking Light