S'mores turn elegant in the form of mini chocolate cheesecakes with graham cracker crusts, topped with marshmallows toasted under the broiler.
Our What's Baking theme this time around, hosted by Joanna of Kosher Kitchen, is a variation on S'mores, the classic summer dessert. Is really almost the end of summer? Did it feel like it flew by to anyone else?
In the past, I've made S'mores Crumb Bars and S'mores Monkey Bread, both of which are very casual desserts. But then I wondered, what if s'mores went upscale?
One of our family's most popular "special occasion" desserts, served at bridal and baby showers, as well as other parties, is mini cheesecakes. They are most often classic New York-style, half topped with cherry pie filling, half plain. They have all the qualities of a full-size cheesecake, but in bite-size, fork-free form.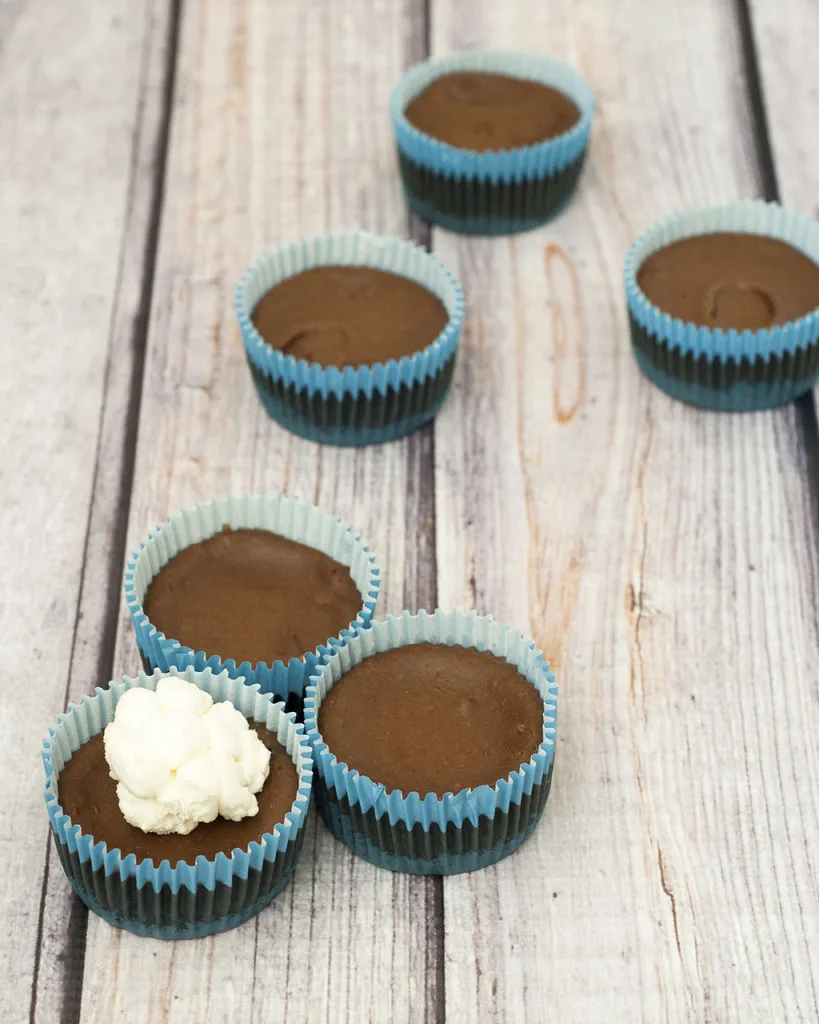 For my mini s'mores cheesecakes, I laid a graham cracker crust in the bottom of a paper cupcake liner, then topped it with an easy chocolate cheesecake batter. After the s'mores cheesecakes were baked and had chilled, I place a few mini marshmallows on top, and slid them under the broiler for just a minute, until the tops started to toast. When served immediately, the marshmallow is still gooey on the inside, just like classic s'mores!
The key to non-lumpy cheesecake is to have all of your ingredients (even the eggs) at room temperature before mixing. These cheesecakes are not baked in a water bath, but it doesn't matter of the tops crack, because they'll be covered by marshmallow topping anyway!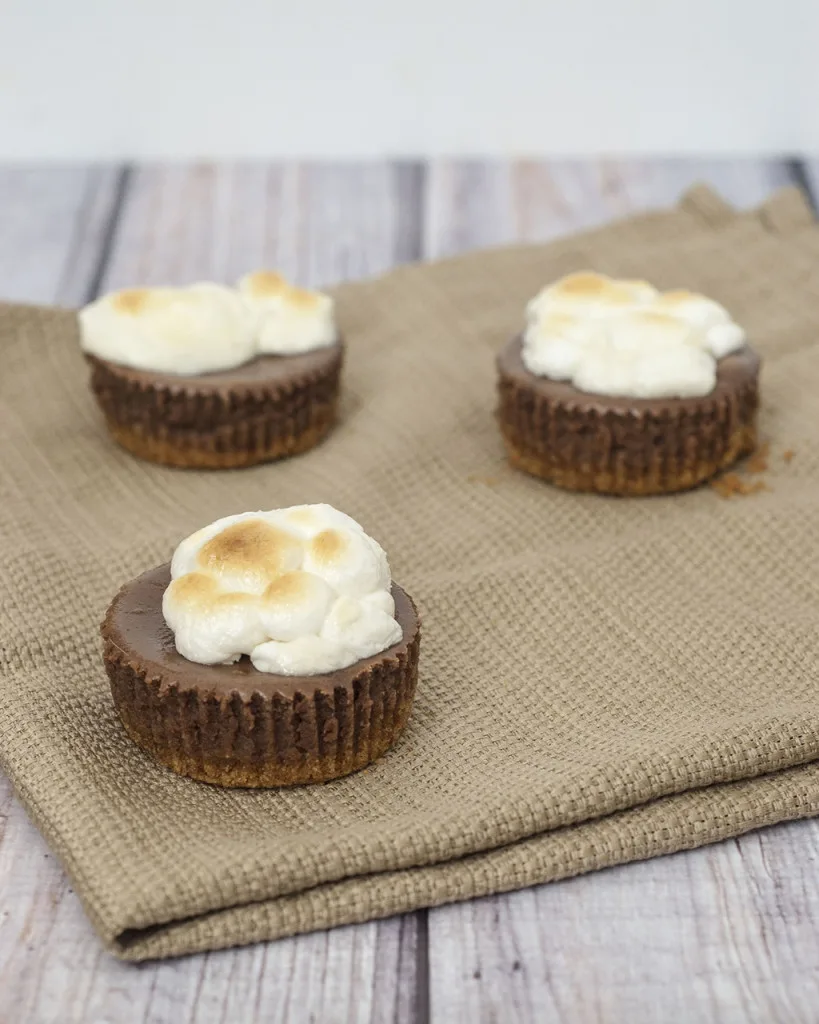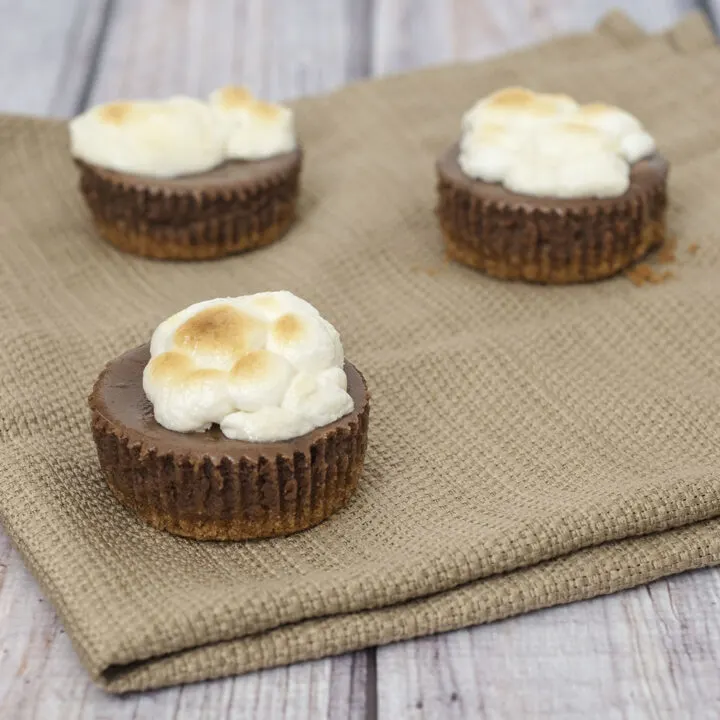 Mini S'mores Cheesecakes #WhatsBaking
Yield:
18 mini cheesecakes
Ingredients
For the crust:
11 graham cracker sheets
2 ½ tablespoon dark brown sugar
4 tablespoon unsalted butter, melted
For the filling:
2 oz packages cream cheese, at room temperature, 8-
1 cup sugar
¼ cup unsweetened baking cocoa
2 teaspoon vanilla extract
3 large eggs
For the topping:
Instructions
Line an 18-well cupcake pan with paper liners. Preheat oven to 350 degrees.
In a food processor, pulse the graham crackers and brown sugar together until no large chunks remain. Stream in the melted butter while continuing to pulse, until all the crumbs are moistened.
Place a tablespoonful of crumbs in the bottom of each paper liner. Use a shot glass to press down on the crumbs to form a crust. Set aside.
In the bowl of a stand mixer, beat the cream cheese until smooth. Add the sugar and cocoa, and beat, scraping down the bowl occasionally, until no white streaks remain. Beat in the vanilla.
Add the eggs, one at a time, beating well and scraping the bowl between each addition.
Pour a scant quarter-cup of batter into each paper liner (each should be about ¾ full).
Bake for about 20 minutes, just until set at the edges and just a little jiggly in the middle. Place the baking pans on a wire rack to cool, then transfer to the refrigerator to chill for at least 4 hours, or overnight.
Just before serving, divide the mini marshmallows among the cheesecakes. Turn broiler to high, and place the cheesecakes on a cookie sheet. Place the cookie sheet under the broiler for 30 seconds to a minute, until the marshmallow topping starts to toast. Serve immediately.
Adapted from Betty Crocker