Can dinner be both easy AND healthy? Yes! Serve lemon shrimp over a salad of corn, red onion and basil with a red wine vinaigrette.
Weeknight meals are essential to most families. Even recipes that are ready in under 30 minutes can feel like they're taking FOREVER when you're starving, and the kids are starving, and you're tired because you just got home from work.
So, how about a recipe that's ready in under 20 minutes? Yes, it is possible!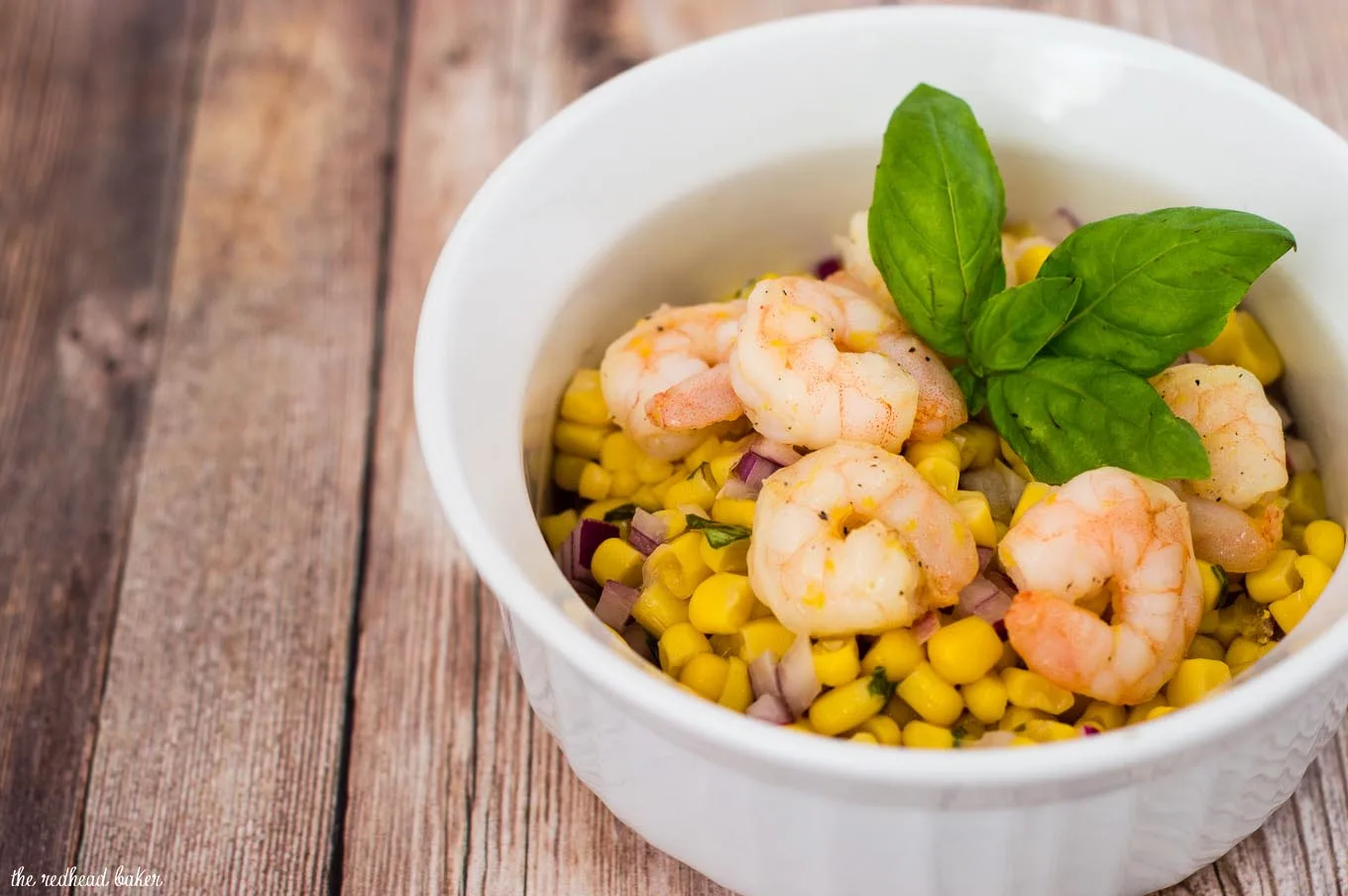 Most meats take at least 20 minutes, depending on size and thickness. Shrimp, however, cook very quickly. I used small-size shrimp, which cook in about 4 minutes. Larger shrimp might take a whopping 3 minutes. Deal breaker, I know.
The corn takes 10 minutes, and you can cook the shrimp while the corn cooks. Everything else in the recipe requires no cooking. Just a quick shake of the salad dressing, a quick toss in a mixing bowl, and you're done!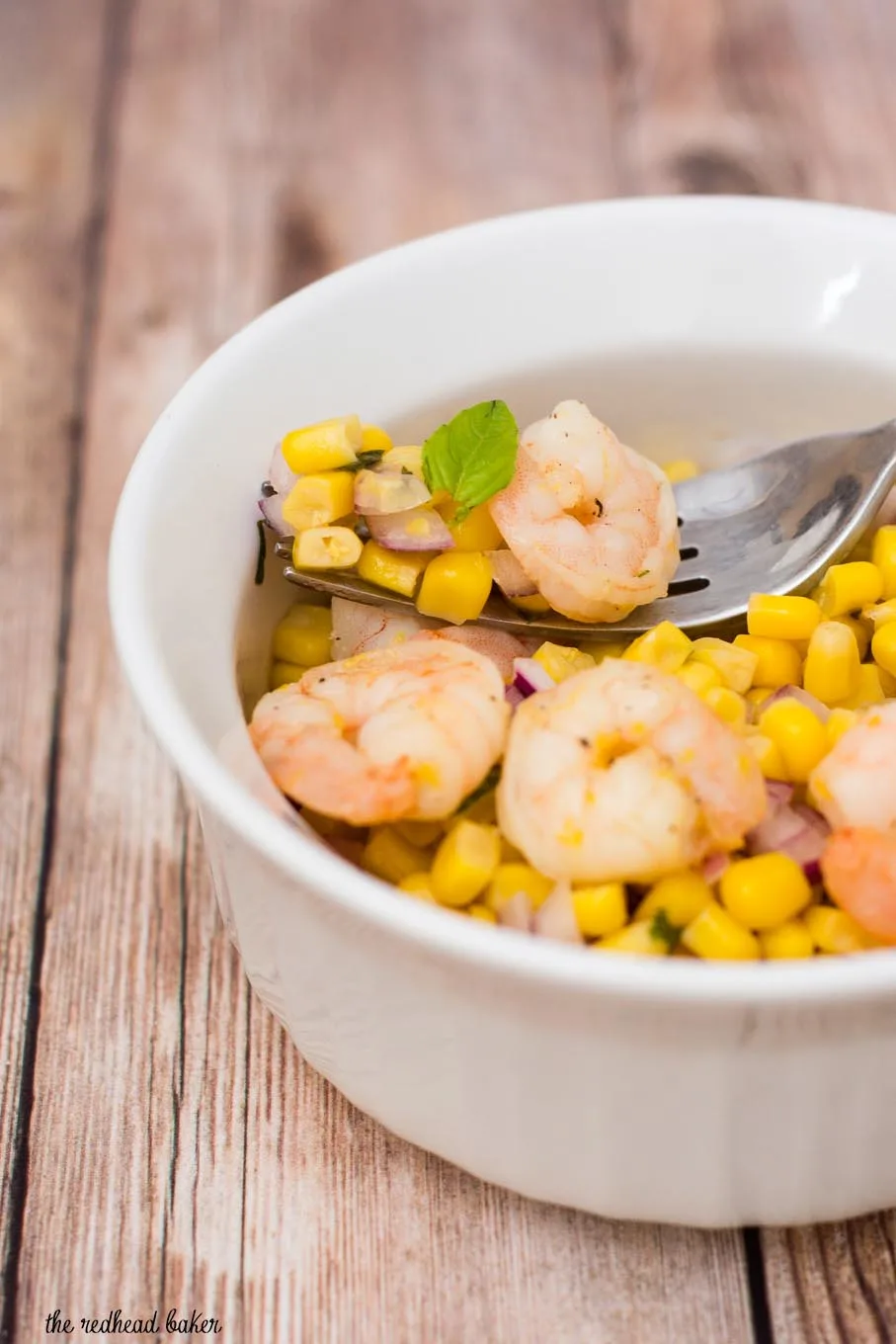 This is a nice, light meal for a hot summer night, but if you don't think it sounds filling enough, you can add some croutons to the salad, or serve with slices of French or Italian bread.
What's even better is that the leftovers (if there are any) are delicious eaten cold the next day, when the dressing has had the time to soak into the shrimp and corn.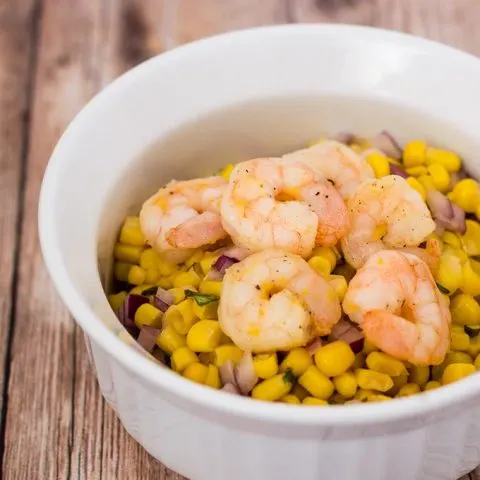 Lemon Shrimp with Basil Corn Salad
Ingredients
2 medium ears corn, husks removed
2 tablespoon . butter
Zest of 1 lemon
12 oz shrimp, peeled and deveined
1 clove garlic, grated
Olive oil
Freshly ground black pepper
½ small red onion, finely diced
2 tablespoon red wine vinegar
½ teaspoon Dijon mustard
1 tablespoon lemon juice
½ cup basil, chopped
Instructions
Melt the butter in a medium saucepan over medium heat. Add the corn kernels and cook for 10 minutes, stirring occasionally.
Pour the corn into a large mixing bowl, and add the red onion and the basil.
In a small bowl with a tight-fitting lid, add the red wine vinegar, 1 tablespoon of olive oil, the mustard, lemon juice, ½ teaspoon salt and ¼ teaspoon pepper. Cover tightly and shake to combine. Pour the mixture over the corn salad.
In a small mixing bowl, toss the shrimp with the lemon zest, grated garlic, 1 teaspoon salt and ½ teaspoon pepper.
Heat 2 tablespoon of olive oil in a large skillet, and add the shrimp. Cook until pink and opaque, about 3 minutes. Add the shrimp to the corn salad. Divide evenly among 4 bowls and serve.
Slightly adapted from Delish