This comforting baked butternut squash mac and cheese with apples and bacon will up your body and soul on any chilly fall evening.
Philadelphia weather can be so weird. From the beginning of September through the end of November (and sometimes even into December), you can't really predict what it will be like. It could still feel like summer — yes, even in December. Just two years ago, my husband wore shorts to a Christmas Eve party. We plan indoor parties for my son's late-November birthday, but last year, it was warm enough that we could have held it outside.
On the other hand, you'd think early September would still feel summer-like. Nope, not this year. High temps are just in the low 70s. Well, that might feel summer-like to some, and I'm still stubbornly wearing my flip-flops, but it's not quite shorts weather for me. It's starting to feel like fall.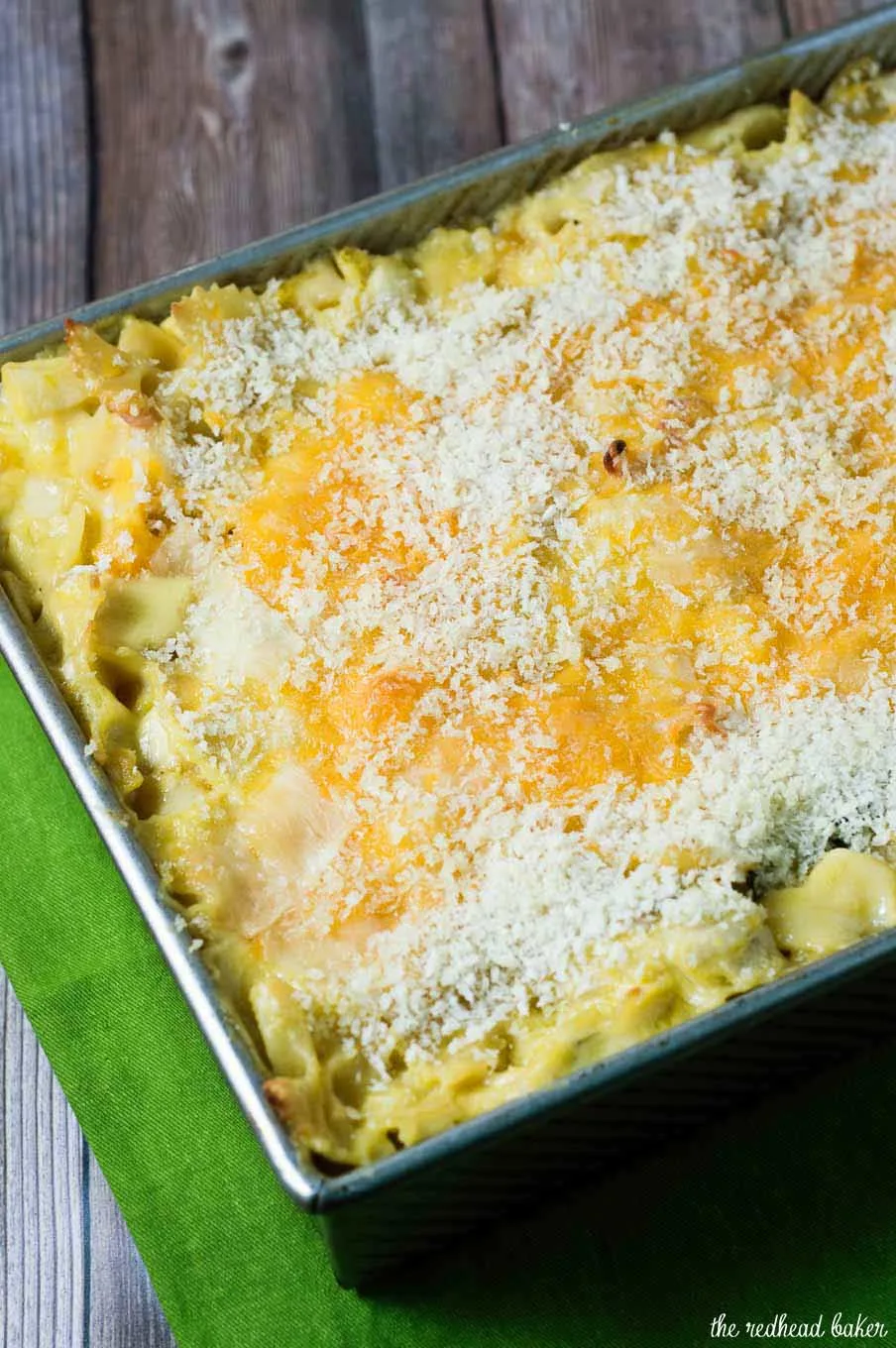 If it's not feeling like fall quite yet where you are, file this butternut squash mac and cheese recipe away until it does. It's full of comforting fall flavors and cheese. Lots of cheese. Be warned that this is not a quick weeknight recipe, but it can be made ahead and refrigerated until ready to bake.
Some tips: I like to use pre-cubed butternut squash for recipes like this to cut down on prep time. Also, snip your bacon with kitchen shears. It's tough to chop raw bacon with a regular kitchen knife. If, like me, you hate mincing garlic, you can grate it on a microplane instead.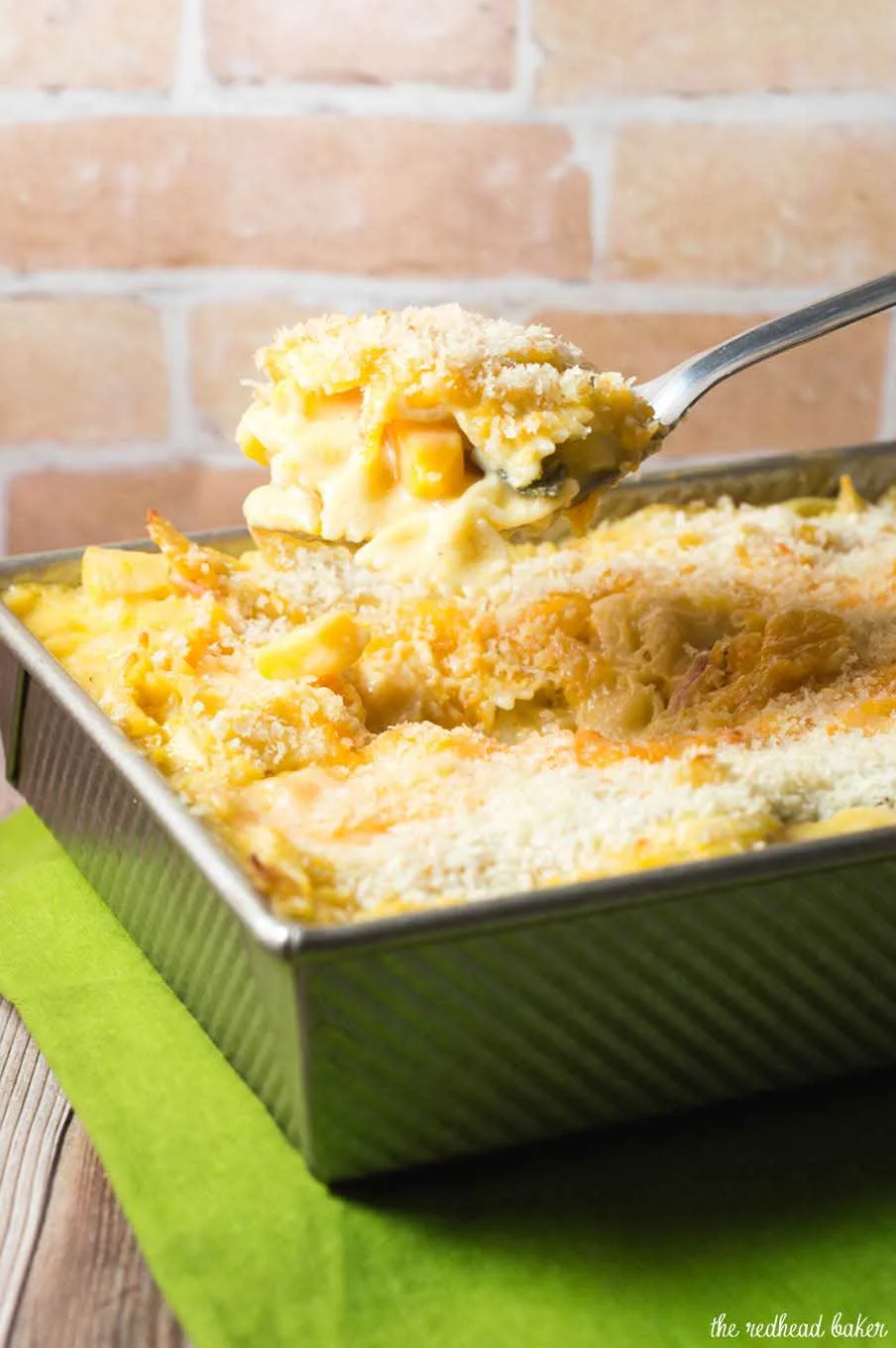 If you are making this butternut squash mac and cheese ahead of time, follow the recipe all the way up to pouring the mixture into the prepared 9x13 dish, but do not top with the reserved cheese/breadcrumb mixture until just before you put it in the oven on the day you want to serve it. You don't need to bring the mac and cheese to room temperature before baking, but you may need to add an extra 10 to 15 minutes to the baking time.
This was a huge hit with my family, even my son, who claims he doesn't like butternut squash. It involves a lot of hands-on cooking, but the end result is well worth the effort, so it will be making a lot of repeat appearances on our table this fall and winter.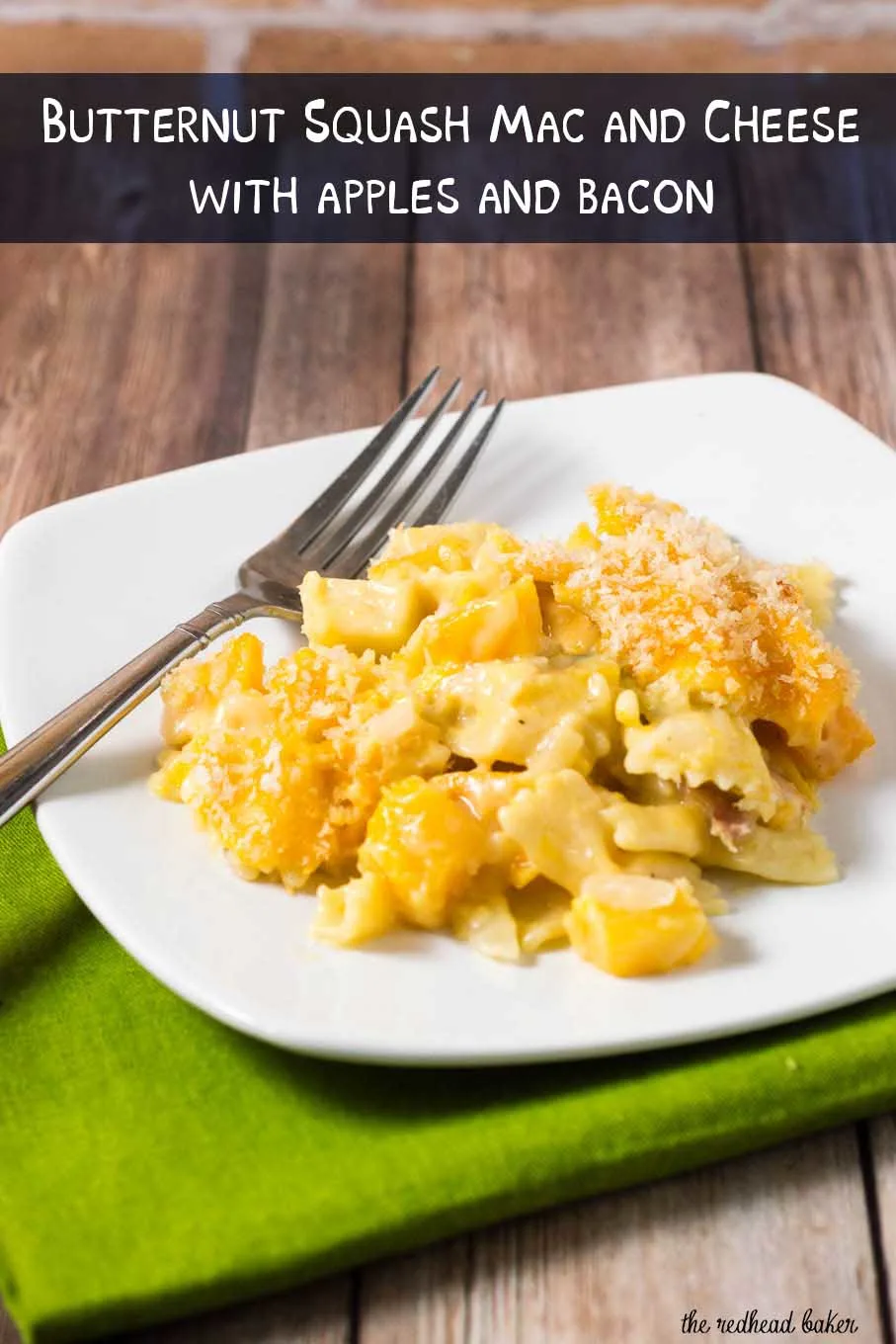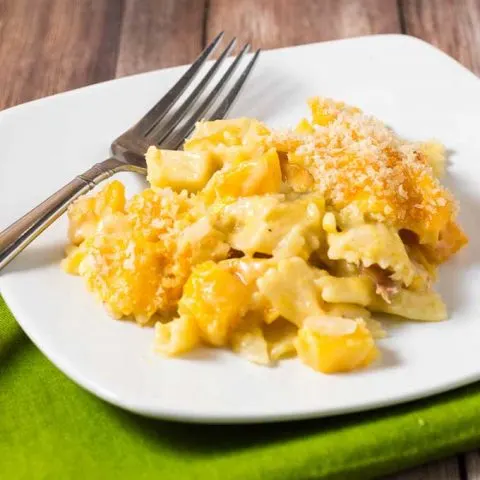 Butternut Squash Mac and Cheese with Apples and Bacon
Total Time:
1 hour
20 minutes
Ingredients
2 ¼ pounds cubed butternut squash
1 tablespoon extra virgin olive oil
¾ teaspoon kosher salt, divided (plus more as needed)
½ teaspoon ground black pepper, divided
1 pound farfalle pasta
4 ounces shredded mild cheddar cheese
4 ounces shredded sharp cheddar cheese
2 ounces shredded parmesan cheese
½ cup panko bread crumbs
4 slices bacon, chopped
1 medium yellow onion, finely diced
2 cloves garlic, minced or grated
2 medium Granny Smith apples, peeled, cored and chopped
10 large sage leaves, torn in half
4 tablespoon unsalted butter
¾ cup all-purpose flour
4 cups whole milk, at room temperature
Instructions
Preheat the oven to 400 degrees F, and line a large baking sheet with aluminum foil. Spray with nonstick cooking spray. Toss the butternut squash with the olive oil, ½ teaspoon salt and ¼ teaspoon black pepper. Spread evenly on the baking sheet and roast for 20 minutes, stirring once during the process to prevent sticking.
Remove 2 cups of the roasted butternut squash to a food processor or blender and puree until smooth.
Prepare the farfalle according to package instructions for al dente, then drain, reserving ½ cup of the pasta cooking water.
Combine the cheddars and parmesan cheese in a medium-sized bowl. Remove 1 cup to a separate bowl and toss with the bread crumbs. Set both bowls aside.
In a large Dutch oven or heavy bottom sauce pot, cook the bacon over medium-high heat until crispy. Remove from the pan with a slotted spoon to a paper-towel lined plate, leaving the rendered fat in the bottom of the pot.
Add the onions, garlic and apple to the rendered fat, cooking and stirring until translucent, approximately 3-5 minutes. Stir in the sage and cook until fragrant, approximately 30 seconds. Add the butter and melt, then add the flour to form a paste. Stir the mixture for approximately 1-2 minutes, then slowly pour in 1 cup of the milk, stirring. Slowly add in the remaining milk, stirring, and turn the heat up to medium-high.
Whisk constantly as the sauce heats up and thickens, but do not allow to boil. Once it is thick, remove the sauce from the heat and whisk in the cheese until smooth, leaving out the reserved cup. Whisk in the pureed butternut squash and season with salt and pepper.
Combine the pasta (loosen with the reserved pasta water if it sticks together), cheese sauce, and roasted squash, then spread evenly into a 9x13 baking dish. Top with the reserved cheese/bread crumb mixture.
Bake in a 350 degrees F oven for 40 minutes, or until the top is melted and the sides are beginning to bubble.
Adapted from Savory Simple
You might also like: